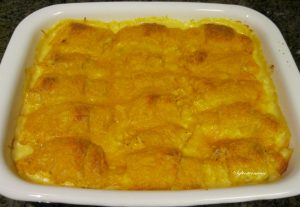 Chicken Crescents are a delicious way to prepare chicken for dinner, or even lunch.  I always serve my chicken crescents with vegetable sides like cream corn, green beans, steamed veggies, etc.  You may wish to liven up the meal by adding a spicy sauce side instead of the milder plain or steamed vegetables.  Ranch Style Beans are a fabulous side with Chicken Crescents.
Making this recipe is easy.  You simply mix the ingredients together and roll them up in the crescents.  After you lay them in a blanket of cream of chicken soup, you top the crescents with cheddar cheese.  Then bake for only 25 minutes.
You will note that the total time to prepare this dish is listed as 2½ hrs.  A large portion of the time is used for boiling, deboning & shredding the chicken breasts.  Cooking and preparing the chicken breasts can certainly be done the day before in order to cut down on the time needed to prepare dinner.
Cook Time
| Prep Time | Cook Time | Ready In | Yields |
| --- | --- | --- | --- |
| 45 min. | 1 hour 25 min | 2 hours 30 min | Dinner for 4 – 6 |
Ingredients for Chicken Crescents Recipe
3 – 4 Cups Chicken (3 Chicken Breasts) – Cooked and Shredded
2 Cups Cheddar Cheese – Shredded
2 Cans Crescent Rolls (8 crescent rolls per can)
Cans Cream of Chicken Soup
2 Cups Milk
Salt & Pepper
Chicken Crescents Preparation
Boil Chicken Breasts – I boil chicken breasts for 1 – 1½ hrs.
Remove the boiled chicken from water and let chicken cool completely
Debone & Shred Chicken
Combine Soup, Milk, and ⅔ Cup Cheddar Cheese in a saucepan.  Heat until melted

Pour ½ Soup Mixture into large casserole dish to cover the bottom
Preheat Oven to 375°
Stir together Shredded Chicken and ⅔ Cup Cheddar Cheese, Salt & Pepper
Open, Separate and Lay Out Crescents on Wax Paper
Place approx 1 T of Chicken & Cheese mix at the wide top of each Crescent
Fold in Edges of Crescent and Roll Up Each Crescent – lay into the prepared casserole dish
Cover Chicken Crescents with remaining Soup Mixture
Top with remaining Cheddar Cheese
Bake 20 – 25 minutes – 375°
Chicken Crescents are also delicious as reheated leftovers for lunch the next day!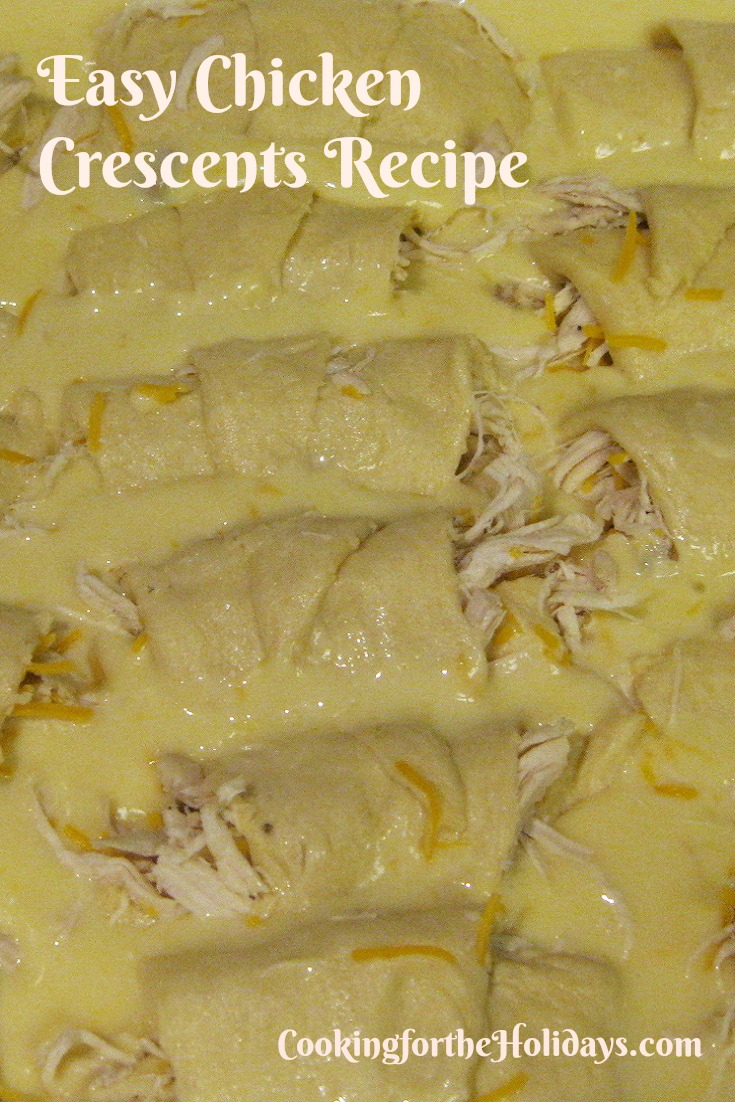 Originally posted 2018-05-19 19:03:13.
---