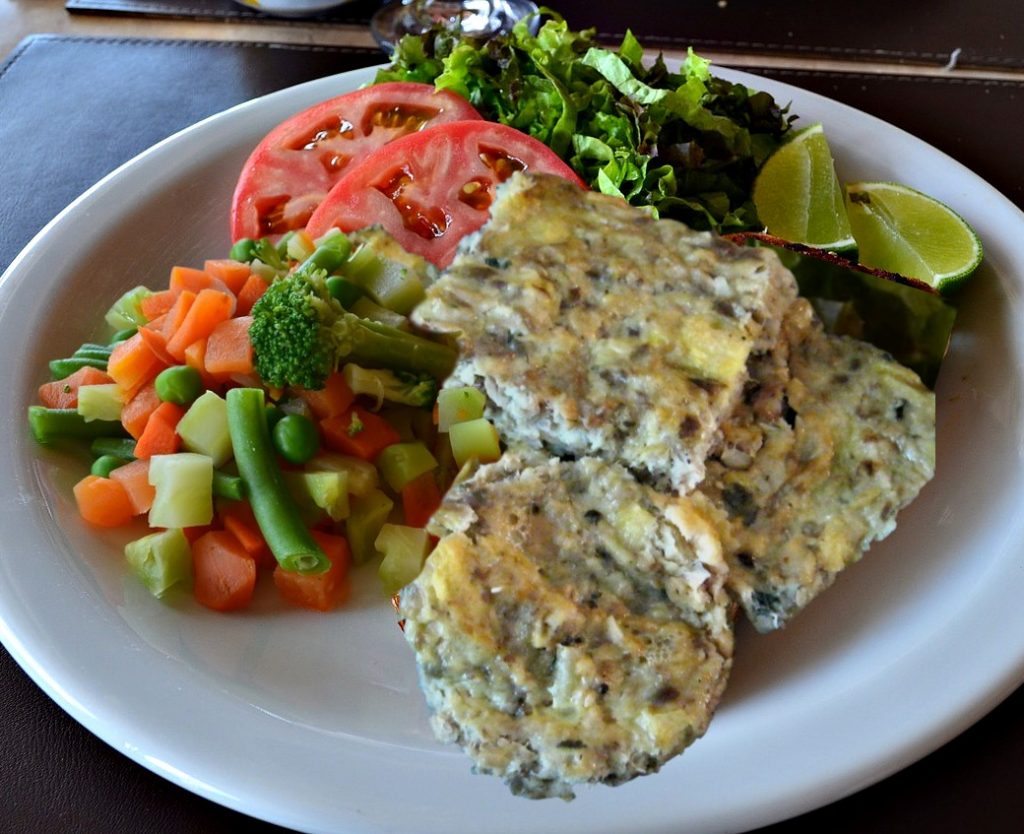 For as long as I can remember, I have made a delicious salmon loaf.  It has only been in my adult years that I started cutting the salmon loaf into salmon patties.  Either way, this salmon loaf recipe is fast, easy and fabulous.
When I was a child, my mom made this salmon loaf recipe for our family.  She served it with green beans, potatoes, and often our favorite pasta side dish.  It was always one of my favorite meals.
Because it is so easy, as well as enjoyed by just about everyone I know, I have cut the salmon loaf into patties to make it more attractive for luncheons.  But, it is still the same delicious taste!
Salmon Loaf Recipe
You will notice that you have the choice of using potato chips or crackers in this recipe.  I tend to prefer crushed potato chips, but my mother almost always used crackers.  Either way, that ingredient holds the loaf together after baking.
Cook Time
| Prep Time | Cook Time | Ready In | Yields |
| --- | --- | --- | --- |
| 10 min. | 20 min | 30 min | Dinner for 4 – 6 |
Ingredients for Salmon Loaf Recipe
1 Large (14.75 oz) Can of Pink Salmon
Crushed Potato Chips or 7 Crushed Cracker Squares
1 Egg
Salmon Loaf Recipe Directions
Stir all the ingredients together, mixing well.  Flatten the mixture into a square baking dish and bake at 350° for 20 minutes.
For the round patties, I simply used a round cookie cutter to cut the individual serving pieces.  If square is fine with you, you will save all the salmon loaf for serving.  When it is just our family for dinner, I cut the loaf into squares.  I only use the round patties shapes for luncheons and entertaining.
Pyrex Square Glass Baking Dish & Canned Pink Salmon
My Pyrex dish is over 30 years old.  That alone is a big reason I prefer Pyrex when cooking.  But, I also love it because it is microwave and oven safe, as well as dishwasher safe.
My dish did not come with a lid, but I often wish it had.  That sure would be great for storing leftovers.  However, keep in mind, that lid is not oven or microwave safe.
I also want to mention that pink salmon in a can does include the skin and bones of the fish.  That tends to shock people the first time they use it for cooking.  I mash it all up together.  Once it is baked, skin and bones are mostly undetectable.
 Pyrex 8 Inch Square Baking Dish with Red LidCheck Price 
Chicken of the Sea, Traditional Pink Salmon, 14.75 ozCheck Price
Originally posted 2018-08-16 18:27:57.
---