My Roast Recipe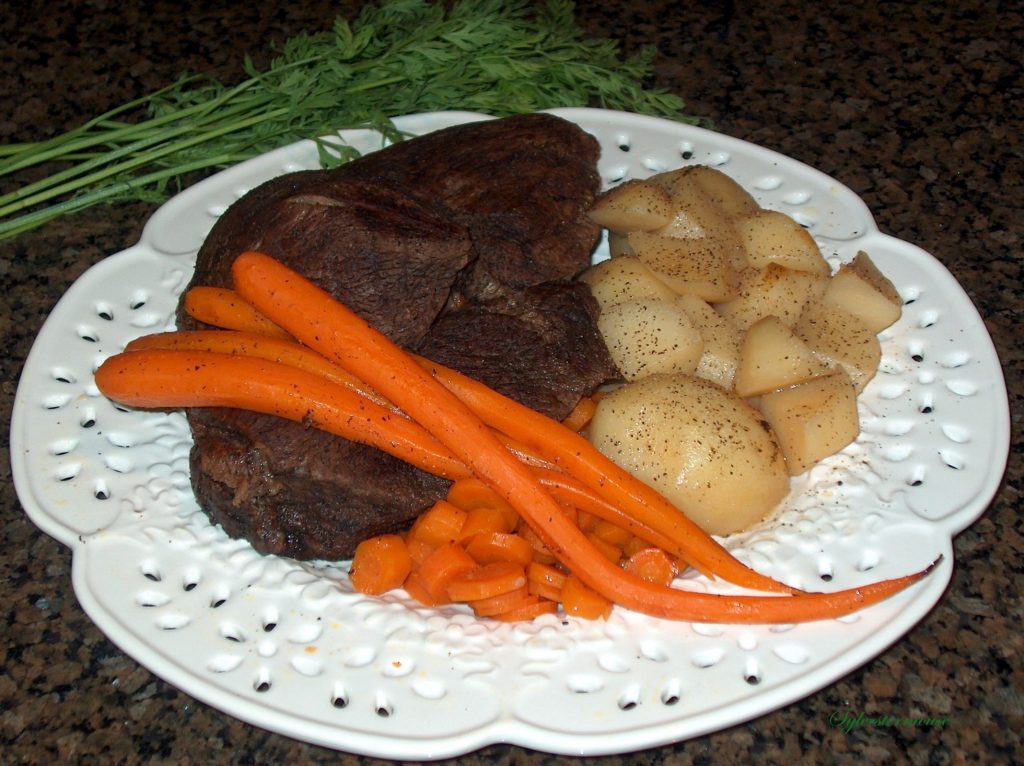 In my opinion, there is nothing better than a great roast for dinner. Especially a roast cooked with potatoes and carrots.
When you come from a family as large as mine, you better know how to cook a roast and you better know how to cook for crowds. An all time family favorite just happens to be my own recipe for a tender roast. I honestly can not remember how old I was when I devised this recipe. My best guess would be 16 or 17 years old.
I have 4 brothers and of course, a father and believe me, there is no better recipe test site than 5 male palates and stomachs. While it may be true that they would eat anything set before them, they didn't necessarily like it. Fortunately for me, my roast was a hit then and it still is today. All of my sisters-in-law, brothers-in-law, nieces, nephews, and the endless list of other offspring, devour this meal. It is probably the only individual meal that I can serve to a crowd without anyone needing to go to McDonald's afterwards.
One of my closest and dearest friends is a Home Economics teacher. When she started teaching, about 25 years ago, she asked permission, and of course it was granted, to teach my method for cooking a roast in her class. My recipe has also been published in several fund-raising cookbooks over the last 30 years. I honestly believe it is so popular because it is so very simple and has that "well of course that's how you do it" appeal to the household chef. Remember, it only varies slightly from what most people already do when they cook a roast.
For those of you who are not married, but would like to be married, my husband swears this is the meal that sealed the deal.
Picking the Right Roast
I have used this recipe to cook several different cuts of beef roasts. I prefer to use the premium cut Sirloin Tip Roast. They are simply a leaner cut of beef with less muscle connective tissue, but a pot roast is also a very good choice and often less expensive.
I like one that has a little fat marbling throughout it.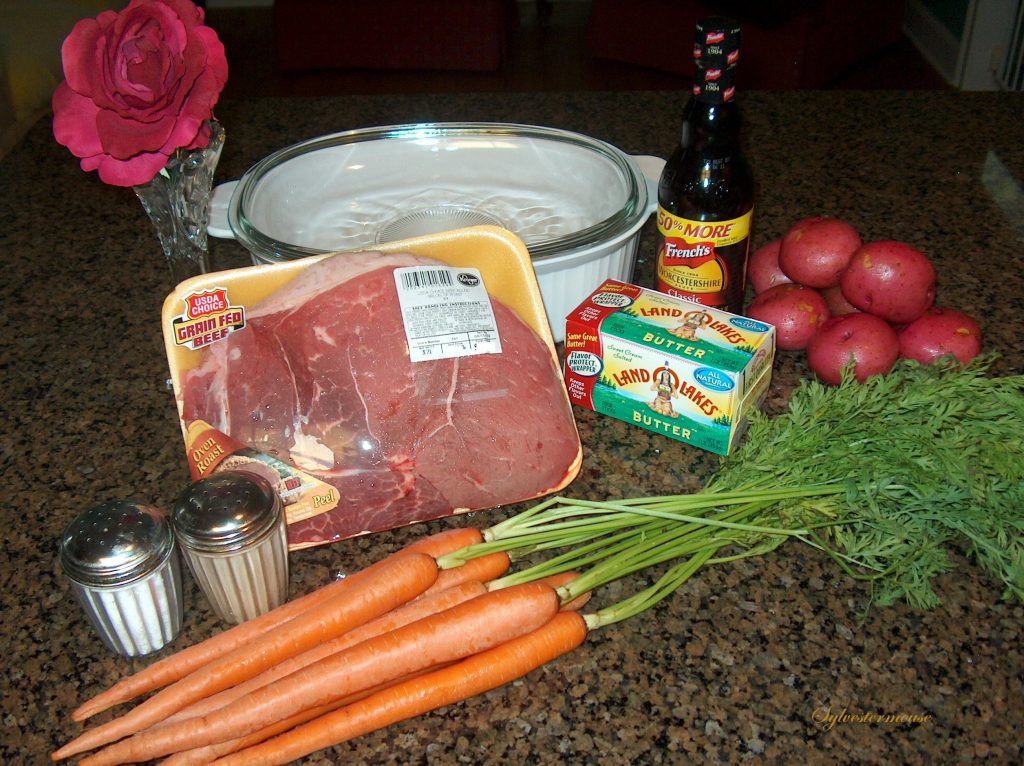 Cook Time
| Prep Time | Cook Time | Ready In | Yields |
| --- | --- | --- | --- |
| 45 min. | 3 hours | 3 hours 45 min | Dinner for 4 – 6 |
Ingredients for My Roast Recipe
3 – 4 lb Beef Sirloin Tip Roast
10 – 12 Red Potatoes
8 – 12 Carrots
Worcestershire Sauce
Butter
Salt & Pepper
To increase this recipe, simply buy a larger roast, add 1 or 2 potatoes and 1 carrot per person added to the dinner party.
Roast Preparation
Pre-heat Oven: 350°
One side at a time: Salt & Pepper the Roast
Place 3 or 4 pats of Butter on Roast
Sprinkle with Worcestershire sauce: I use approx 1/8 cup Worcestershire sauce, but I don't measure it. I just splash each side until it has a light coating of sauce. (The size of the roast determines how much sauce is needed for coating)
Turn Roast Over: Apply Salt, Pepper, Butter and Worcestershire sauce on second side.
Add 1/2 Cup Water in the cooking pan at the side of the Roast. DO NOT POUR THE WATER OVER THE TOP OF YOUR ROAST or you will wash off the Worcestershire sauce.
Cover with a glass lid and place in the oven. Cook for 1 1/2 hrs.
Add Potatoes & Carrots to Roast
While the roast is cooking alone, peel and cut up your potatoes and carrots. My husband likes the carrots whole so, as you can see in the picture, some of our carrots are added whole.
After cooking the roast for 1½ hrs., remove it from the oven and turn it over.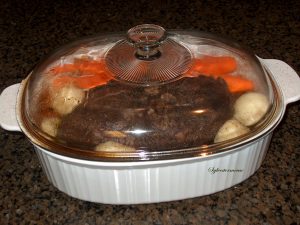 Add the carrots first allowing them to sink into the sauce surrounding the roast. Then top the carrots with the potatoes. Depending on the number of potatoes, they may even cover the top of the meat which is perfectly fine.
Add salt and pepper.
COVER with the glass lid and return to the oven for the remaining 1½ hrs.
Roast is Ready to Eat!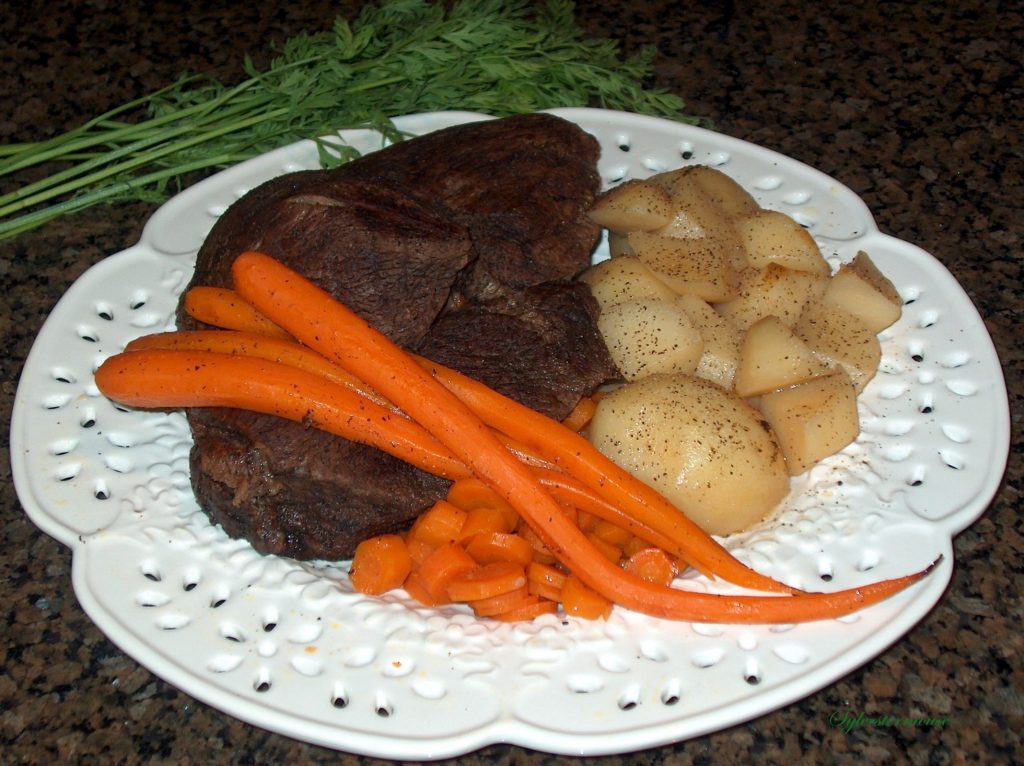 Use the Sauce that is in the Bottom of the Cooking Dish over the Top of the Roast
French's Worcestershire Sauce 15 OzCheck Price
The Worcestershire Sauce
As I said in the introduction, I stumbled upon this method by trial & error when I was very young. I attribute the tenderness of my roast to several things starting with the cut of the roast & the lidded CorningWare dish, followed by the Worcestershire sauce & butter and finally, not overcooking the roast.
A final note, I use French's Worcestershire sauce. I have found that while some adults prefer Lea & Perrins, the kids usually do not and I am normally cooking for more than two when I prepare a roast.
Picking the Right Cooking Dish for Your Roast
Corningware French White 4 Quart Oval Casserole W/ Glass CoverCheck Price
One key to my success is my CorningWare 4 Quart Oven Roaster. It is big enough to hold the roast and vegetables all at once. Since it is safe in oven, microwave, refrigerator, freezer, and dishwasher, I can store the leftovers in it and reheat them the next day without messing up another dish. But, I especially like the fact that it can go in the dishwasher. After I prepare the meal, I don't usually have the desire or the energy for a big clean up job.
It is a durable stoneware dish and has a tempered glass cover but make sure you don't run water over the glass lid while it is still hot. That happened in our home once and it shattered. I still miss my original CorningWare dish with the little flowers on it. The new style is shorter and wider. It cooks just as well, but I don't embrace change when something works.
A Special Thanks
I would like to say a special thank you to my sweet and dedicated husband for spending his evening taking all the pictures for this article!
Yes, he did get to help eat this roast.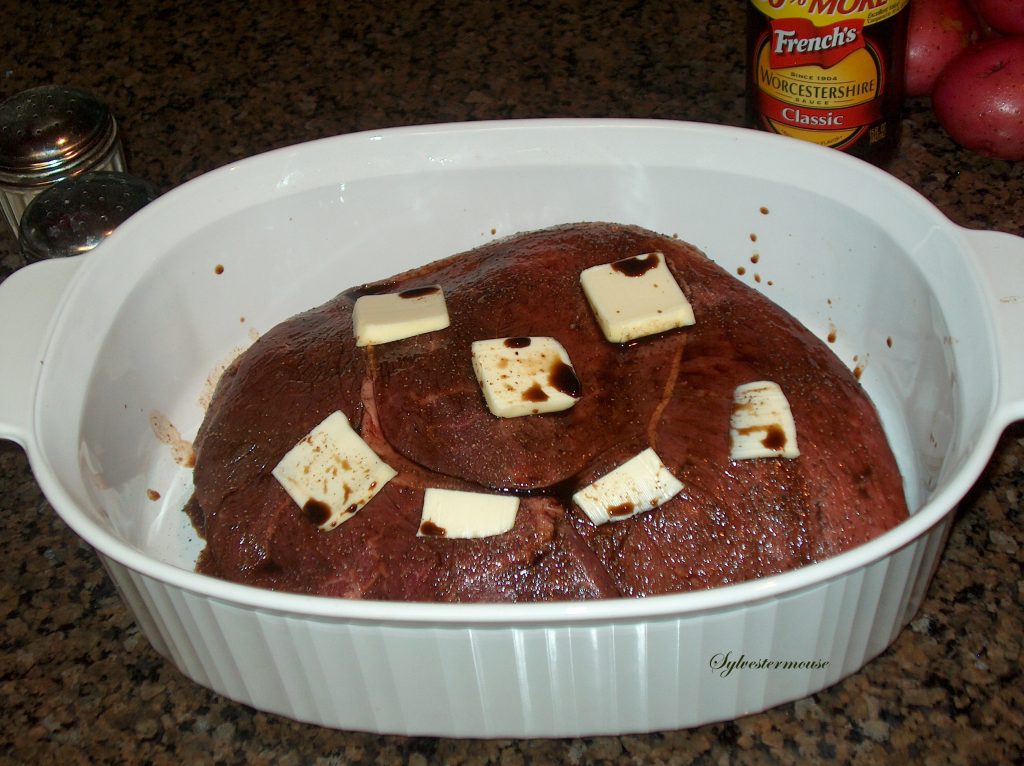 I am adding this "blooper" picture at the bottom because I didn't want to scare you away earlier.
Since some of us like "Nightmare Before Christmas" and Zombie Sheep, I thought you might want to see what the roast looks like with the Worcestershire sauce!
Thank you for stopping by!
Do Come Back and See Me Again!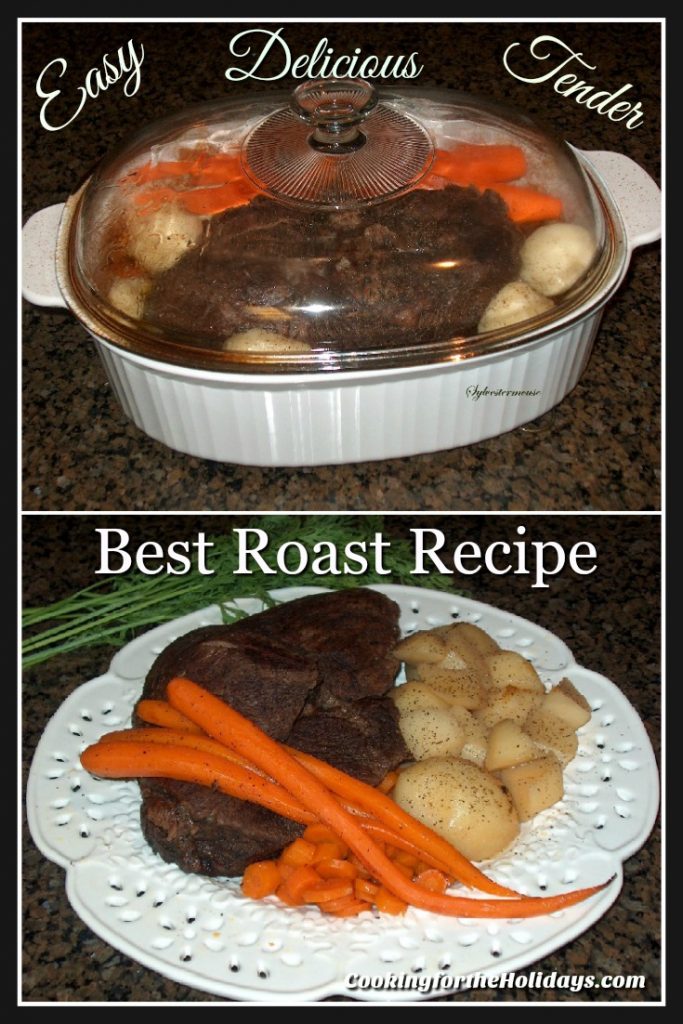 Originally posted 2016-11-15 21:15:23.
---