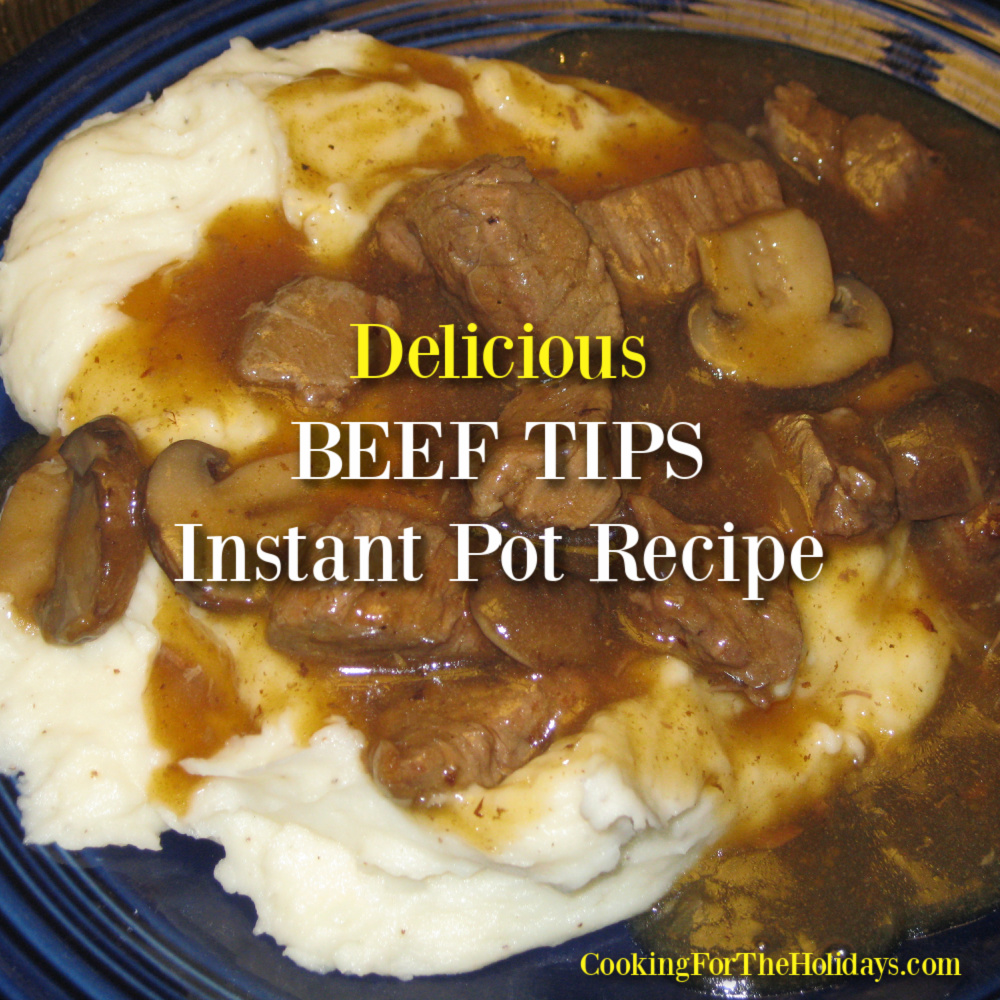 I recently discovered this new Beef Tips recipe for my Instant Pot.  It is the best new recipe I have tried in years and I highly recommend this wonderful dinner recipe.  I found the original recipe in my Taste of Home Instant Pot Cookbook, which has several wonderful recipes for the Instant Pot.
I was resistant to make this recipe because of the mushrooms, but after consideration, I decided to try it.  After all, I knew I could eliminate the mushrooms from my own serving.  I am so glad I didn't let the mushrooms keep me from cooking this delicious meal in my Instant Pot.  We will be making it again soon, and often.
I own the Instant Pot Ultra 10-in-1 Electric Pressure Cooker, therefore the following recipe is written using the settings and terms on that specific cooker.  However, I have tried to add general terms too for those of you who own a different Instant Pot.
I did need to alter the original recipe slightly to accommodate my cooker.  Specifically, I noted that my instant pot gets really hot on the 'saute' setting and needed more olive oil than the original recipe listed. Plus, the original recipe gives the option to add dry red wine which I did not add.  And, finally, I used 2 Tablespoons of Worcestershire sauce instead of one and a yellow onion, which was not specified.
Beef Tips Instant Pot Recipe<

Cook Time

Prep Time: 25 min.

Total Time: 1 hour

Serves: 2 – 4

Before you begin cooking the Beef Tips in your Instant Pot, you will need to start cooking the potatoes for Mashed Potatoes (click here to see my recipe for mashed potatoes).

Ingredients

1 Beef Top Sirloin Steak (1 lb) Cubed
3 Tablespoon Olive Oil
Swanson's Beef Broth (1 box – use only 3 cups)
Salt & Pepper
1/2 lb Small Baby Portobello mushrooms (sliced)
1/2 of 1 Small Yellow Onion (sliced)
2 Tablespoon Worcestershire Sauce
4 Tablespoons Cornstarch
1/4 cup cold water
Mashed Potatoes (prepared separately)

Directions

Cut onion & Mushrooms in Slices, Cube Steak, Salt & Pepper Steak pieces
Select Saute (high heat) on Instant Pot
Add 3 Tablespoon Olive Oil & Brown Cubed Steak in batches removing them to a bowl as they are browned (add more olive oil if needed while browning)
Add 1/2 Cup beef broth to Instant Pot and scrape the browning bits from bottom
Return Beef to pot, add mushrooms, onion, 2 ½ cups beef broth and Worcestershire sauce
Cancel Saute – Lock Lid in Place (vent closed) – Set on Pressure Cook (High)
Cook for 15 minutes (takes a few minutes to heat up & start cooking)
When finished, quick release the steam
Remove meat & mushrooms from the broth
Mix 1/4 cup water & 4 Tablespoons of Cornstarch – Stir mixture until smooth
Slowly add cornstarch water, stirring constantly – thicken for about 2 minutes
Return meat & mushrooms to cooker
Cancel cook cycle and set on warm

Serve with Prepared Mashed Potatoes
You May Also Enjoy this Minestrone Soup Recipe published on a sister contributors website: Minestrone Soup Recipe for the Instant Pot.
Originally posted 2021-01-26 17:23:01.
---