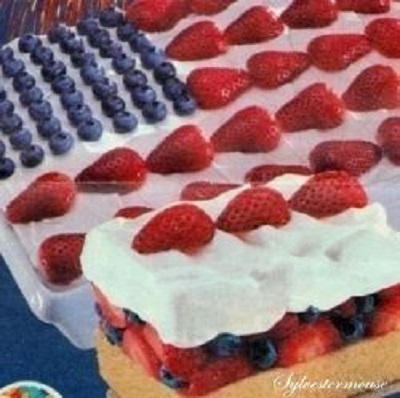 Celebrate the 4th of July
Each year we have a party on the 4th of July and my mom brings her fabulous 4th of July cake. There are always a few invited guests to our home, but the group seems to grow once the fireworks begin.
Our city hosts an annual community fireworks display which can be seen for miles. Huge crowds gather for the public fireworks show. Families picnic and bands play for hours before the display. Because we can view the fireworks display from our yard, we choose to stay on our own property.
We have a lot of great neighbors who enjoy celebrating the 4th of July by shooting their own fireworks prior to the main event. It is always fun to hear the laughter ring and the ooh's and aah's as fireworks light the night sky. We consider the city display to be our grand finale.
For a few hours each year we feel like we are a part of a grand celebration where everyone is welcome and where we are all united.
The Menu
We also include Boca Burgers for our Vegetarian family members
French Fries or Potato Chips
Baked Beans
Potato Salad or Slaw
Sodas, Lemonade and Iced Tea
For dessert: My Mom's 4th of July Cake
Flag Cake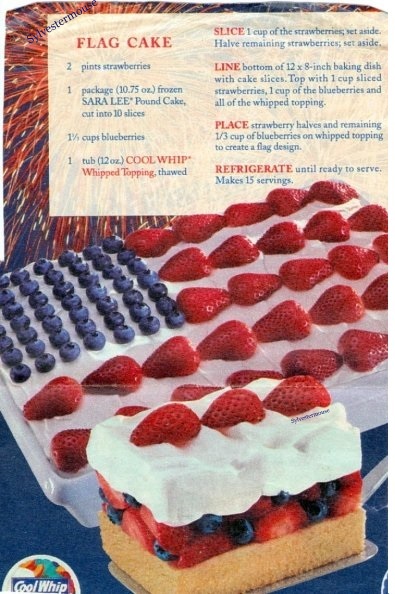 Mom cut this recipe out years ago. It was originally distributed by Cool Whip.
Copied from above recipe to make ingredients and instructions easier to read
Directions
SLICE 1 cup of the strawberries; set aside.
Halve remaining strawberries; set aside
LINE bottom of 12 x 8 inch baking dish with cake slices. Top with 1 cup slices strawberries, 1 cup of the blueberries and all the whipped topping.
PLACE strawberry halves and remaining 1/3 cup of blueberries on whipped topping to create flag design.
REFRIGERATE until ready to serve
Recommended Serving / Baking Dish
Either of these would be fine. The goal is to use a rectangle dish to replicate the shape of a flag. Over the years, I have seen and made several variations of the Flag Cake.
Pyrex Grip-Rite 3-Quart Oblong Baking Dish ClearCheck Price Wilton Recipe Right 9×13 Oblong Pan with CoverCheck Price
Friends in Other Countries
Obviously this article is about a 4th of July celebration in the United States and the cake recipe is for the US flag, but why not have fun with it and celebrate your own patriotism for your country.
Use the properly colored fruit and make your own design by shaping and arranging the fruit accordingly.
If you make your own flag cake using this recipe, we would love to see it. Send me a photo and I will gladly feature it here.
Have a Safe and Happy 4th of July!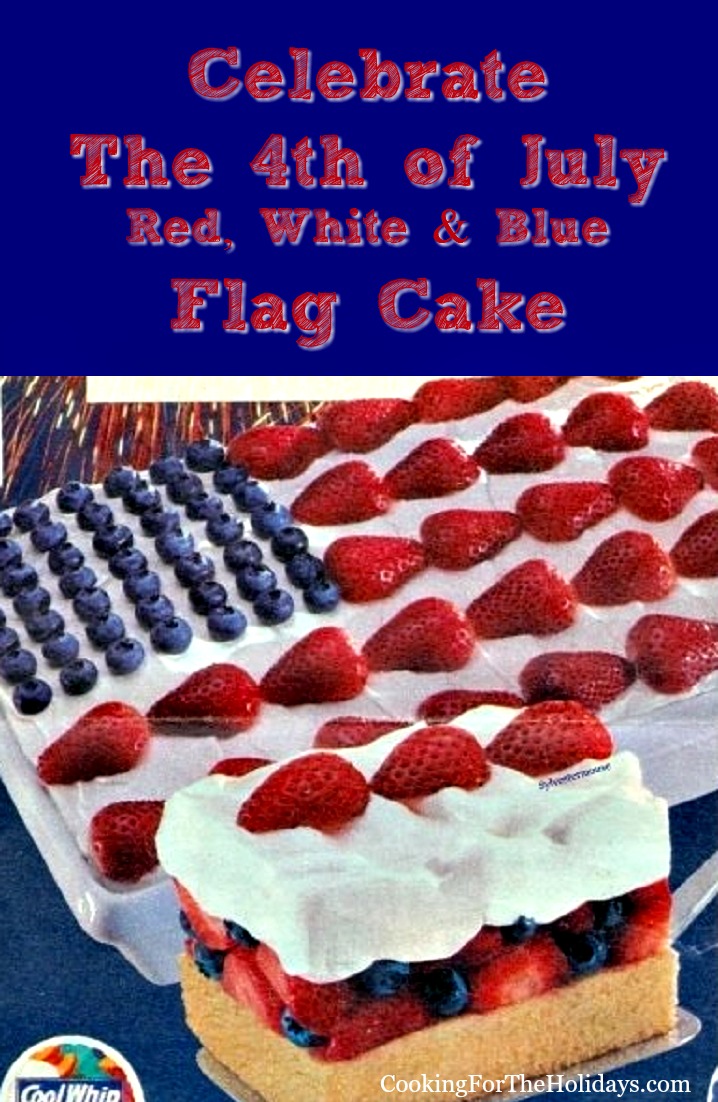 Originally posted 2017-06-16 16:04:13.
---