Chocolate Covered Kiwi is Fun to Make and Delicious to Eat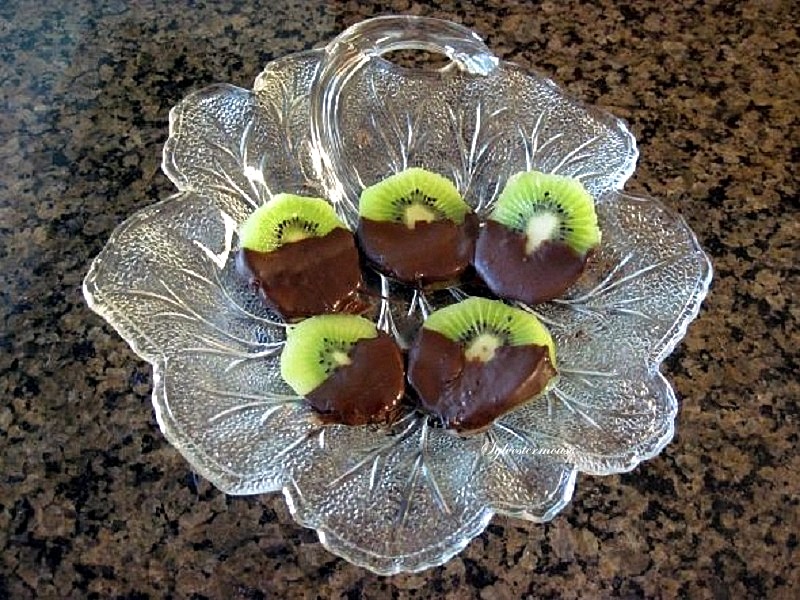 Have you ever eaten a Kiwi?  Have you ever tried Chocolate Dipped Kiwi?
Kiwifruit is harvested in the fall and is a delicious, pretty little green fruit that is a rich source of Vitamin C.  It is grown in several countries, but it is a commercial crop from Italy, New Zealand and Chile.  When I can get this delicious treat, I enjoy serving them in addition to our standard selections.
A few years ago, I was dipping other fruit in chocolate as a special treat for my family and I happened to have one hand.  I asked myself, "well, why not?"   So, I peeled the little sweetie, cut it into slices and started dipping.
Let me tell you, Chocolate Covered Kiwi is a fabulous, tasty little morsel that will now be high on my list of totally awesome dipped fruit.  I do believe I have a new favorite, so move over bananas, strawberries, apples, grapes, cherries, pineapple and oranges.  There's a new guy in town and he is delicious!
Oh, and did I mention, the green makes a beautiful color addition to the tray for banquets, luncheons, teas and buffets?  It also makes a healthy and delectable afternoon snack or even an easy appetizer or dessert.  Whatever the reason, I am sure you will find it to be wonderfully scrumptious too.
Supplies and Ingredients For Chocolate Covered Kiwi
Kiwi Fruit ~ Each Kiwi fruit makes 6 or 7 slices
Chocolate for Melting ~ I prefer Saco Dolci Frutta featured below
Wax Paper
Saco Dolci Frutta Creamy White Shell for Fruit, 8-ounce CanistersCheck Price
Dolci Frutta Hard Chocolate Shell, 8 Ounce (Pack of 2)Check Price
 
My Cooking Motto
Fast & Easy
Easy Directions for Chocolate Dipped Kiwi
Step 1:  Cover a cookie sheet with wax paper ~ The cookie sheet will make it easier to move your Chocolate Covered Kiwi.
Step 2:  Melt Your Chocolate ~ If you use Saco Dolci Frutta, you can melt the chocolate in the microwave in their package container.  Melt the chocolate in the microwave for 2 minutes on medium and stir the chocolate until it is completely melted.  Other chocolates will need to be melted in a double boiler or a microwavable dish.
Step 3:  Peel Kiwi and slice (One Kiwi will only slice into 6 or 7 pieces)
Step 4:  Dip the Kiwi slices in the chocolate. Since Kiwi Slices are juicy, a few of them required double dipping
Step 5:  Set on wax paper to cool
Step 6:  When you have dipped all of your Kiwi slices in chocolate, serve or eat.
Best if not refrigerated
This slideshow requires JavaScript.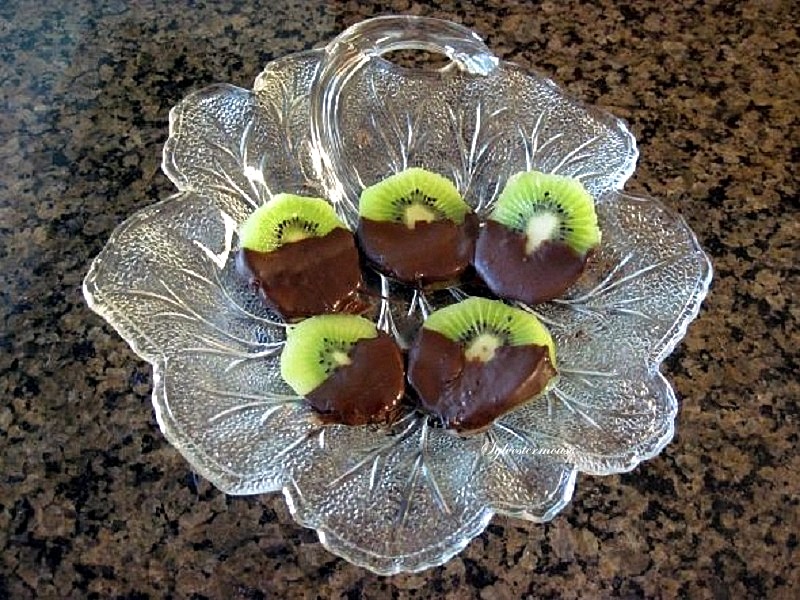 Select Your Favorite Crystal Serving Tray:
Heart of the Home Kitchen:   Crystal Serving Trays & Platters
This recipe article was originally published by me in 2010 on a different site that no longer exists.
All Photos are mine and should not be used without written permission.
©Sylvestermouse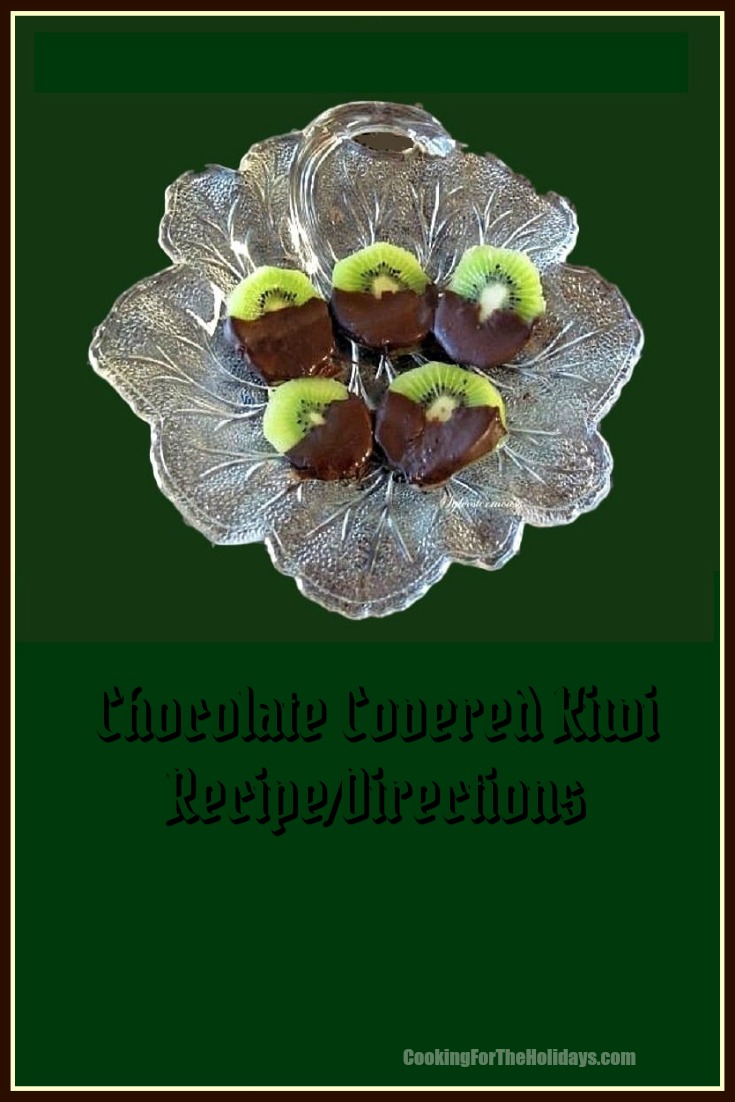 Save
Originally posted 2017-07-13 18:22:03.
---