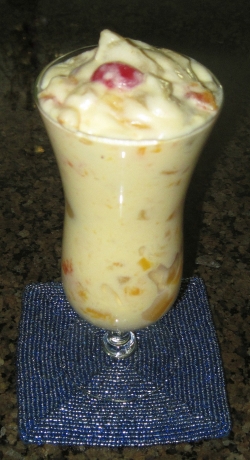 A Delicious Quick and Easy Fruit Salad Recipe
I prefer quick and easy recipes like this fruit salad recipe. During the holidays or on special occasions, I would rather spend my time with my family and friends than in the kitchen cooking so I am always delighted when I find a recipe that is a snap to prepare.
In this article, I will share a fruit salad recipe that takes less than 5 minutes to prepare, makes a pretty addition to the table and tastes fabulous!
I can not recall when or where I originally obtained this recipe, but I have used it for many years now and it is always a treat. It is especially wonderful during the holidays since it can be served as an appetizer, a side or a dessert. Plus, it is a family favorite so it is always a welcome addition to any menu.
In the rare case that there are leftovers, I have been known to eat them for breakfast, lunch and dinner.
Once the fruit salad is mixed together and refrigerated, it will still be good for several days.
Ingredients for Fruit Salad


One 20 oz. Can of Tidbit Pineapples, Drained
One 28 oz. Can of Fruit Cocktail or Two 15 oz. cans of Fruit Cocktail, 1/2 Drained
One 15 oz. Can of Tropical Fruit, 1/2 Drained
1 Large Box (5 oz.) Instant Vanilla Pudding Mix
One 8 oz. Cool Whip Whipped Topping

Instructions

Drain all of the juice from the can of Pineapple Tidbits
Drain 1/2 of the juice from the Fruit Cocktail
Drain 1/2 of the juice from the can of Tropical Fruit
In a Large Mixing Bowl, Combine All of the Fruit
Stir in Vanilla Instant Pudding Mix
Stir in the Cool Whip
Refrigerate Until Ready to Serve
Additional Fruit Salad Recipe Recommendations & Options
This recipe, as is, makes approx. 15 serving. The recipe can be halved for a small dinner party.
As you can see in the top photo, I enjoy serving my fruit salad in a parfait glass to add beauty to my dinner table.
However it tastes just as delicious served in a bowl.
Set of 4 Imperial Glass Cape Cod Crystal Parfait GlassesCheck Price
Originally posted 2015-02-09 12:11:33.
---