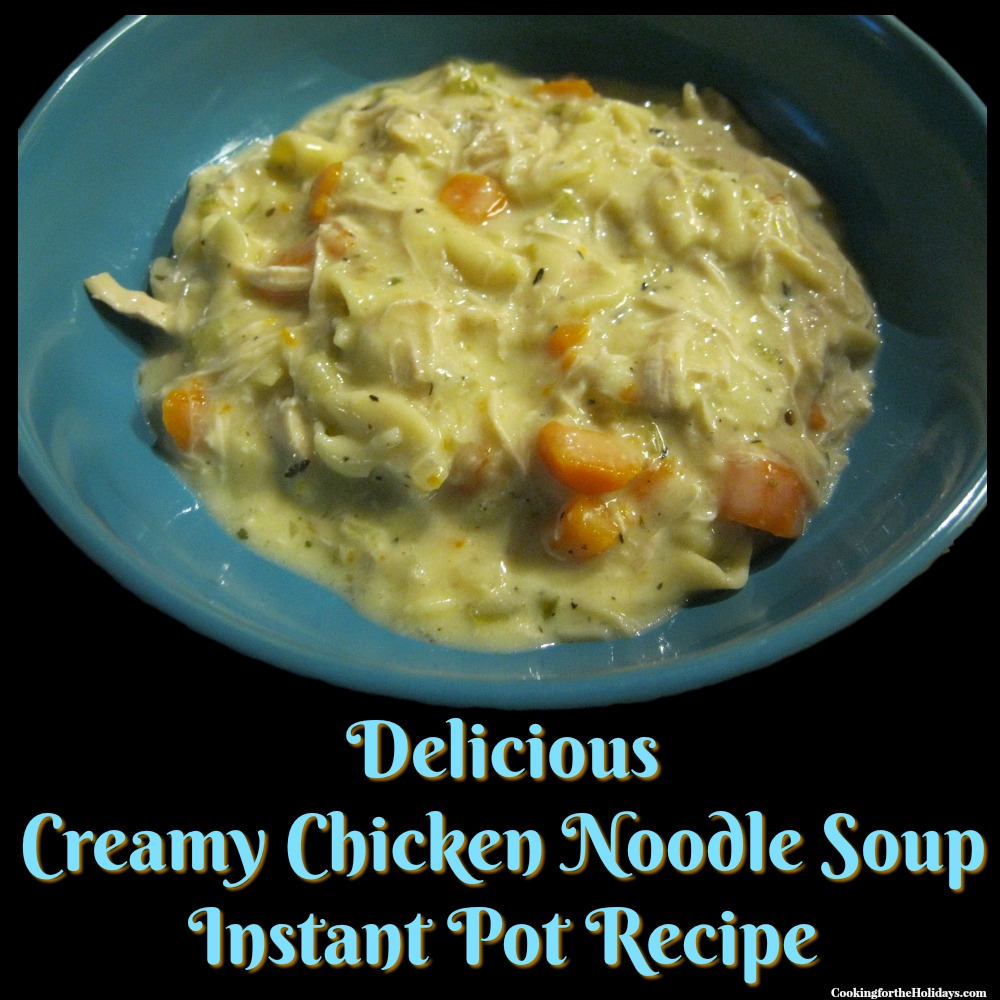 It took me months to perfect a creamy chicken noodle soup recipe for the instant pot.  Because the soup is basically chicken and broth with vegetables, the only difference each time was the consistency of the soup.  I really wanted a creamy soup instead of a watery soup.
Most of us think of the popular store-bought can of chicken noodle soup that is mostly broth and noodles, with a little chicken.  When you are sick, that fast can of soup can't be beat.  However, when the family is well and we want a delicious meal, I opt for the creamier homemade style.
Now that I have perfected my chicken noodle soup instant pot recipe, I will gladly share it with you.  Hopefully, my trials will save you a lot of time, money, stress, and disappointment.
By the way, this recipe is perfect to make ahead, especially during the holidays, to serve a delicious, homemade meal even on a busy day.
My Creamy Chicken Noodle Soup Instant Pot Recipe
| Prep Time | Cook Time | Ready In | Yields |
| --- | --- | --- | --- |
| 1 hr. 30 min. | 20 min (includes preheating time) | 2 hours | Dinner for 6-8 |
Ingredients for Chicken Noodle Soup Instant Pot Recipe
3 Cups Chicken (2 Chicken Breasts) – Cooked and Shredded
8 Cups Chicken Broth (I use the broth from boiling the chicken breasts)
1 Small Yellow Onion, diced
3 Celery Stalks, diced
5-7 Carrots, diced
2 Cups of Fresh Spinach, chopped
1 tsp Basil, dried
1 tsp Thyme, dried
1 tsp Oregano
3 tbsp Butter
3 Cans Cream of Celery Soup
8 oz. Wide Egg Noodles
Salt & Pepper
Chicken Noodle Soup Preparation
Boil Chicken Breasts – I boil chicken breasts for 1 – 1½ hrs.
Remove the boiled chicken from water and let chicken cool completely
Dice Onion, Celery, & Carrots
Wash, dry & chop Spinach
Measure out the herbs (oregano, basil & thyme) and set aside
Debone & Shred Chicken

Cooking the Soup in the Instant Pot
Instant Pot Ultra 6 Qt 10-in-1 Multi- Use Programmable Pressure Cooker, Slow Cooker, Rice Cooker, Yogurt Maker, Cake Maker, Egg Cooker, Sauté, Steamer, Warmer, and Sterilizer

Check Price

Select Saute on Instant Pot and Preheat.  When hot, add and melt butter
Saute Onion, Celery, Carrots and a pinch of salt together for 5 minutes.
Add pre-measured herbs (oregano, basil & thyme) and continue to saute for 1 more minute.
Add the shredded Chicken, Broth, & Noodles.  Close and lock the Instant Pot lid.
Cancel the saute cook and select "Pressure Cook".  Set Instant Pot time for 4 minutes (on high pressure)  Note:  It will take longer than 4 minutes to cook due to the preheating time.  My instant pot cooks usually takes about 15 minutes of cook & preheat time.
When the timer beeps, use the quick release to release the built-up steam in the pot (this actually takes about 30 seconds).  Then unlock the lid.
Add the chopped Spinach, Salt & Pepper.  Stir to mix.
Stir in the 3 cans of celery soup.  (if you prefer a more watery soup, you can use 2 cans of soup and 2 cups of hot water instead of 3 cans of soup)
Chicken Noodle Soup is always delicious as reheated leftovers for lunch or dinner the next day!
Recommended Cooking Tools
Here are a few things I use that make soup preparation easier!  We all need the 2 cup measuring cup.  Mine is almost as old as I am and I use it several times a week.  The Anchor Hocking Fire King glass measuring cup is the one I would recommend based on my own experience.
The Vidalia Chop Wizard is an absolute must when making soup or cooking for the holidays!  Because this chopper is so handy and so often used in my kitchen, it is one of my preferred gifts to give to anyone who cooks.
The small anchor glass is the newest addition to my kitchen tool collection.   I love it!  It is so nice to be able to measure out all of the seasoning in advance, leave them in the glass until I am ready to add them all at once.
 Vidalia Chop Wizard Pro MaxCheck Price Anchor Hocking 5-Ounce Measuring Glass, SmallCheck Price Anchor Hocking Fire-king 16 Oz Glass Measuring CupCheck Price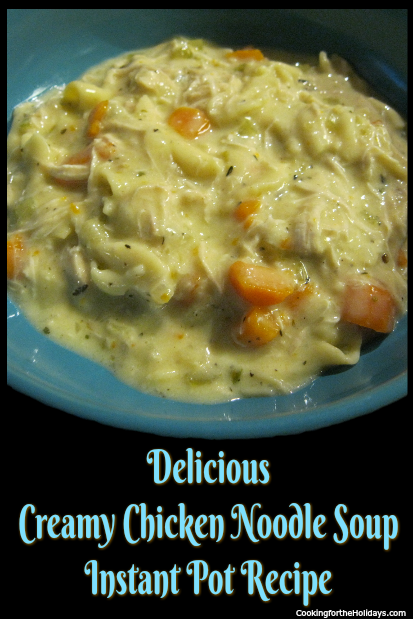 Cooking for the Holidays Contributes to The Following Pinterest Board
You Can Join & Pin To This Group Board Too!
Originally posted 2019-08-16 18:40:51.
---