My Mother's Fruitcake Cookies Recipe
My father's favorite cookie is my mother's Fruitcake Cookie. Mom perfected her Fruitcake Cookie Recipe decades ago. Honestly, I don't remember a time that Mom didn't make these cookies for Dad for Christmas.
Fruitcake cookies are a great way to serve the traditional Christmas fruitcake in single servings or bite size morsels. If you love Fruitcake, you will be in heaven with this recipe!
Because my mother has protected her fruitcake cookie recipe for my entire life. I did ask and receive her permission to publish it.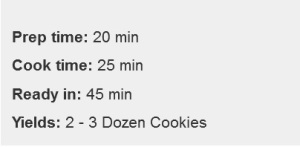 Ingredients
¼ cup sugar
½ cup melted oleo or butter
3 beaten eggs
3 cups all-purpose flour
½ teaspoon baking soda
3 teaspoon cinnamon
1 teaspoon allspice
½ teaspoon salt
1 Tablespoon lemon juice
¾ pound chopped candied cherries
¾ pound candied pineapple
1 pound chopped dates
2 ¼ cups nuts
Instructions
Grease 2 cookie sheets or line 2 cookie sheets with non-stick Reynolds aluminum foil.
Dissolve ½ teaspoon baking soda in ½ cup water.
In a large bowl, combine all ingredients including the dissolved baking soda.
Stir by hand until well blended.
Drop mixture 1 Tablespoon at a time onto greased cookie sheets.
Bake at 300º for 25 minutes
Tips for this Fruitcake Cookies Recipe Ingredients
Candy Fruit
The candy fruit wedges are essential to making a delicious fruitcake cookie recipe. They may not always be readily available in your local grocery store, but you will definitely need them.
There is no substitute.
Candied Pineapple Wedges, 1 lb.Check Price Candied Red Cherry Chips, 1 lb.Check Price
Candied Cherries & Pineapple Mix For the Fruitcake Cookie Recipe
Sometimes You Can Find a Container of Combined Candied Cherries & Candied Pineapple. This combined mixture can be used and is often less expensive than purchasing the fruits separately.
Simply be sure to use 1½ pounds of the combined fruit. You would need 3 of these containers of mixed fruit shown below for my mother's Fruitcake cookie recipe.
Cherry-Pineapple Supreme Candied Fruit, 8 oz.Check Price
Freeze Your Fruitcake Cookies
You can also make this recipe ahead and freeze the cookies by simply placing your cookies in a tin with a sheet of wax paper between each layer of cookies.


Originally posted 2014-12-08 18:27:05.
---