Strawberry Trifles are Delicious and Beautiful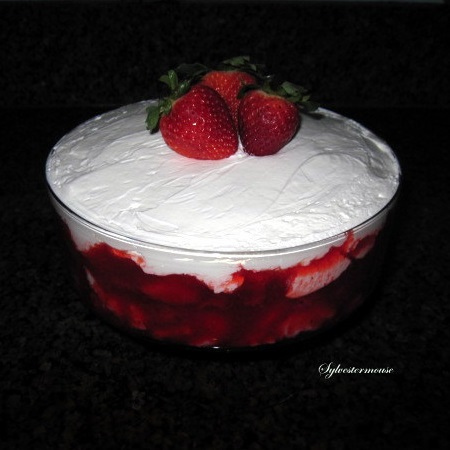 For over 20 years, I have been making this Strawberry Trifle recipe for my family. Because it is red and white, I especially enjoy making a Strawberry Trifle for Christmas, Valentine's Day or the 4th of July. It is beautiful on any dessert table, buffet, banquet table, or on the holiday dinner table.
This Strawberry Trifle recipe is delicious and definitely one of my favorite desserts. It is so easy to make, that it can easily be added to a dinner menu quickly or whipped up just in time for the arrival of company without spending all day in the kitchen.
Fast, easy and delicious! That makes the Strawberry Trifle Recipe the perfect dessert!!
My Strawberry Trifle Dessert Recipe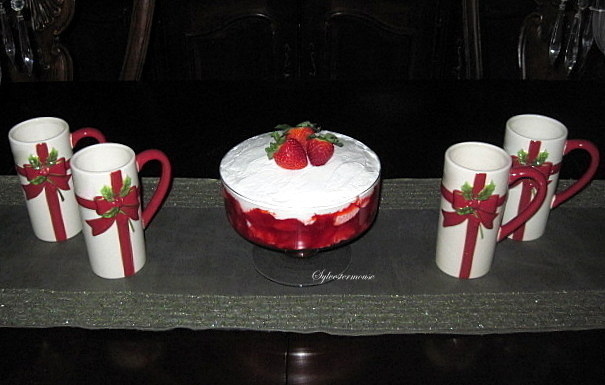 NOTE: This Recipe makes 3 Layers (as shown)
but can be doubled to make 6 layers for a taller Trifle Bowl.
Preparation Time
| Prep Time | Cook Time | Ready In | Yields |
| --- | --- | --- | --- |
| 20 min. | No Cooking | 20 min. | 10-12 servings |
Ingredients for My Strawberry Trifle Recipe
4 oz. Sour Cream
8 oz. Cool Whip
Angel Food Cake (I use a Large Store Bought Cake)
16 oz. pkg. Frozen Strawberries
16 oz. Strawberry Glaze
Fresh Strawberries to Garnish (if desired)
Instructions
Tear Angel Food Cake into Pieces
Mix Frozen Strawberries and Glaze Together.
Fold Sour Cream and Cool Whip Together.
Layer directly in the Trifle Bowl:
First Layer: Angel Food Cake pieces
Second Layer: Strawberry/Glaze Mixture
Third Layer: Cool Whip Mixture
Cover and refrigerate until ready to serve
Strawberry Glaze for a Trifle
Marzetti Fruit Glaze, Strawberries, 13.5oz (qty. 4)Check Price
I prefer to use the Marzetti glaze for convenience. However, you can make your own strawberry glaze if desired. A regular strawberry glaze recipe is not thick enough for a trifle so you will need to add jello to the recipe instead of using mashed strawberries.
Here is my Strawberry Glaze for a Trifle Recipe:
1 3/4 Cups Water
1 3/4 Cups Sugar
2 Tablespoons Cornstarch
Small box of Strawberry Jello
Combine water, sugar & cornstarch in a saucepan. Boil until it is thick and clear. Add strawberry jello slowly. Continue to cook for another minute or so. Remove from heat and let cool. It will continue to thicken when refrigerated.
Strawberry Trifle Recipe in Photos! – Step by Step Photos
This slideshow requires JavaScript.
Select the Perfect Trifle Bowl
For a smaller dinner party, I use the smaller capacity trifle bowl you see in the photos. My grandmother gave me that shorter bowl over 30 years ago. Sadly, I rarely see them available anywhere these days. I would recommend a secondary market like eBay if you have your heart set on the smaller capacity bowl.
I also have a taller bowl that I use at our big Christmas dinner or parties. The bowls come in a variety of styles and sizes. For a selection of bowls, check out Heart of the Home Kitchens.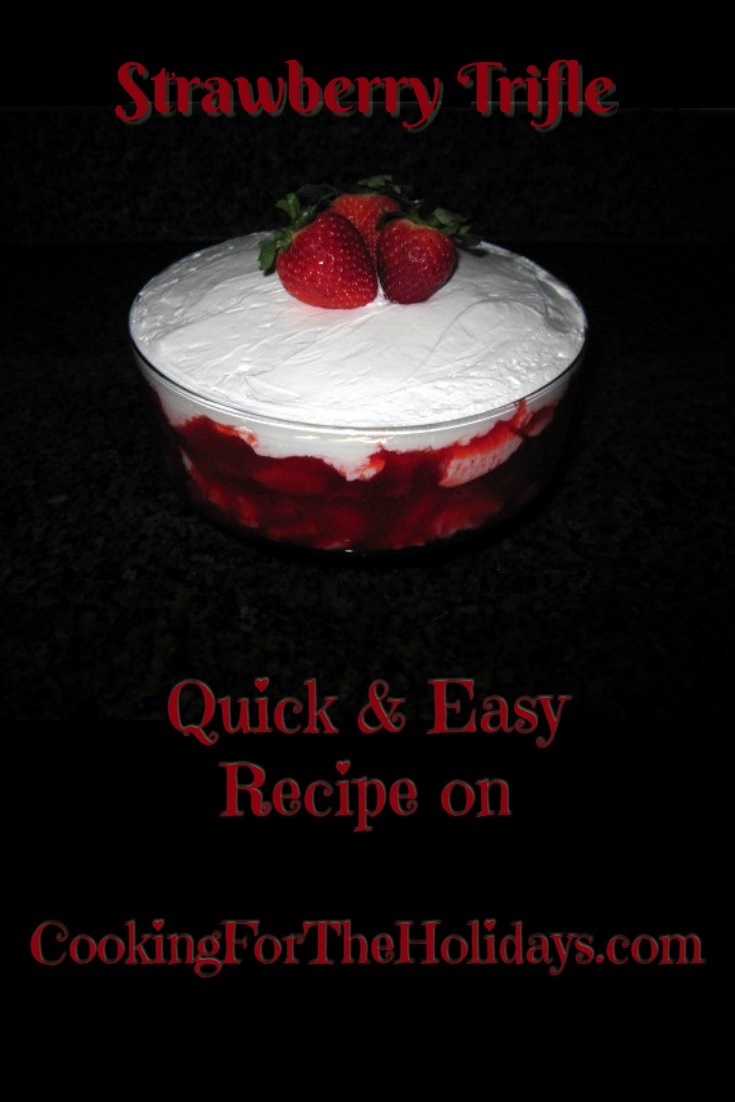 Originally posted 2016-12-15 00:32:29.
---