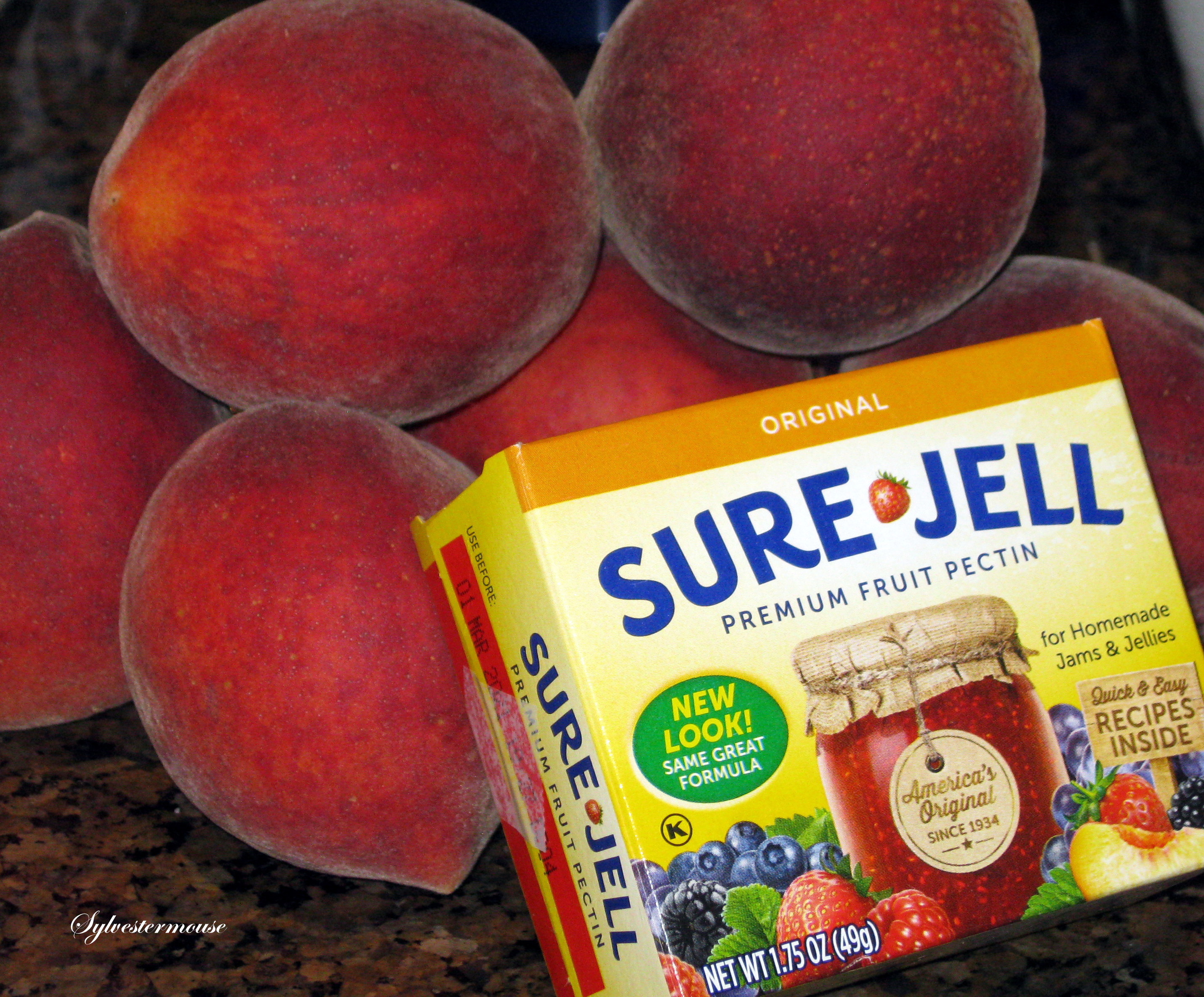 When I was a little girl, I "helped" my grandmother make homemade jams and jellies. As soon as we picked fresh fruit, I knew we would start making jam soon. I always enjoyed working with my grandmother regardless of the job. However, making homemade jam was one of my favorite chores because it yielded delicious jam for months to come.
After I married, I missed making jam and jelly with my grandmother each summer. I also missed having wonderful jam stockpiled for the winter. While we could always buy them at the grocery store, none of it tastes as good as homemade.
When a neighbor gifted me with a jar of her homemade jam, my heart yearned for my own again. I started that very summer, 30 years ago, making homemade jam in my own kitchen.
Also, Homemade Jam makes a wonderful gift for friends & family!
Easy Homemade Jam Recipe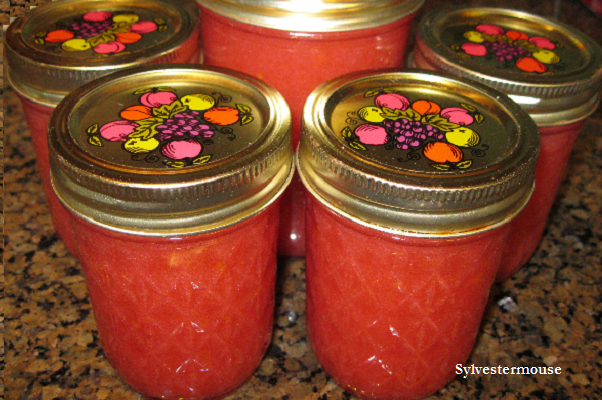 The key to making wonderful homemade jam or jelly is using Sure Jell Fruit Pectin. Each packet added to 2 – 3 cups of finely chopped fruit fills 6 small jars.
I prefer the freezer recipe because I can store my homemade jam in the freezer until I am ready to serve it. Back in the days of cooking with my grandmother, we used the cooked recipe that is included in each box of Sure Jell fruit pectin. In my case, sadly, I don't have a large pantry for storage of dozens of jars of preserves. However, I do have a large freezer with plenty of room.
The Freezer Jam Recipe I Use
Recently, I made peach jam, therefore those are the pictures I will use in this article. However, you can use peaches, strawberries, apricots, blueberries, cherries, grapes, pears, plums, or raspberries. The amount of fruit and sugar does vary for each fruit. Check the list below for quantities needed for anything other than peaches.
Jam Time
| Prep Time | Cook Time | Ready In | Yields |
| --- | --- | --- | --- |
| 45 min. | Pectin/Water: 1 min boil | 27 hours | 6 – 8 oz jars |
Sure-Jell Premium Fruit Pectin, 1.75 Ounce Box (Pack of 4)Check Price
Ingredients for Peach Jam Recipe
2¼ Cups Chopped Peaches
2 Tbsp Lemon Juice
5 Cups of Sugar
1 Box Sure Jell Fruit Pectin
¾ Cup Water
Freezer Canning Jars ( 6 – 8oz. freezer-safe canning jars)
Peach Jam Preparation
Rinse clean freezer canning jars with boiling water
Finely chop 6-8 peaches (depends of size of peaches. You need 2¼ cups chopped peaches) – If you use a potato masher, or food processor set pulse to chop, not puree
Stir Lemon Juice into Fruit
Stir Sugar into prepared Fruit
Let stand for 10 minutes, stirring occasionally
After the 10 min., mix ¾ cup water & Sure Jell in a sauce pan
Bring to a boil and boil for 1 minute, stirring constantly

Immediately stir Sure Jell mixture into prepared fruit mixture. Stir constantly for 3 minutes
Fill jars quickly to ½" of top
Wipe off top edges of containers and cover with lids
Let stand at room temperature for 24 hrs.
Freeze for up to 1 year & thaw in refrigerator
Refrigerate for 3 weeks (it is not necessary to freeze it first. I usually put one jar in my refrigerator for immediate use and store the rest in the freezer.)
Note: I noticed that the new recipes inside the box are slightly different from the original recipe I use. It calls for more fruit and less sugar. For peaches, they list 3 cups of chopped peaches to 4½ cups sugar. Sounds like a great change to me even though I haven't tried it yet.
Other Fruit & Sugar Options for Jam Recipes
Apricot – 2½ cups chopped apricots & 5½ cups sugar
Blackberry – 3 cups crushed blackberries & 5¼ cups sugar
Blueberry – 3 cups chopped blueberries & 5¼ cups sugar
Cherry – 2 cups finely chopped cherries & 4 cups sugar
Mango – 3 cups mashed mango & 5 cups sugar
Red Raspberry – 3 cups crushed raspberries & 5¼ cups sugar
Strawberry – 2 cups crushed strawberries & 4 cups sugar
Jelly Recipes
Apple – 3 cups apple juice & 5 cups sugar
Grape – 3 cups grape juice & 5¼ cups sugar
Recommended Jam Freezer Jars
I prefer the Ball brand of jelly jars. That choice may have more to do with longevity of experience. It is the only freezer jar I have ever used. However, I can tell you that I have never had any problems with the Ball jars and I love the quilted appearance of the jars.
Ball Mason 8oz Quilted Jelly Jars with Lids and Bands, Set of 12Check Price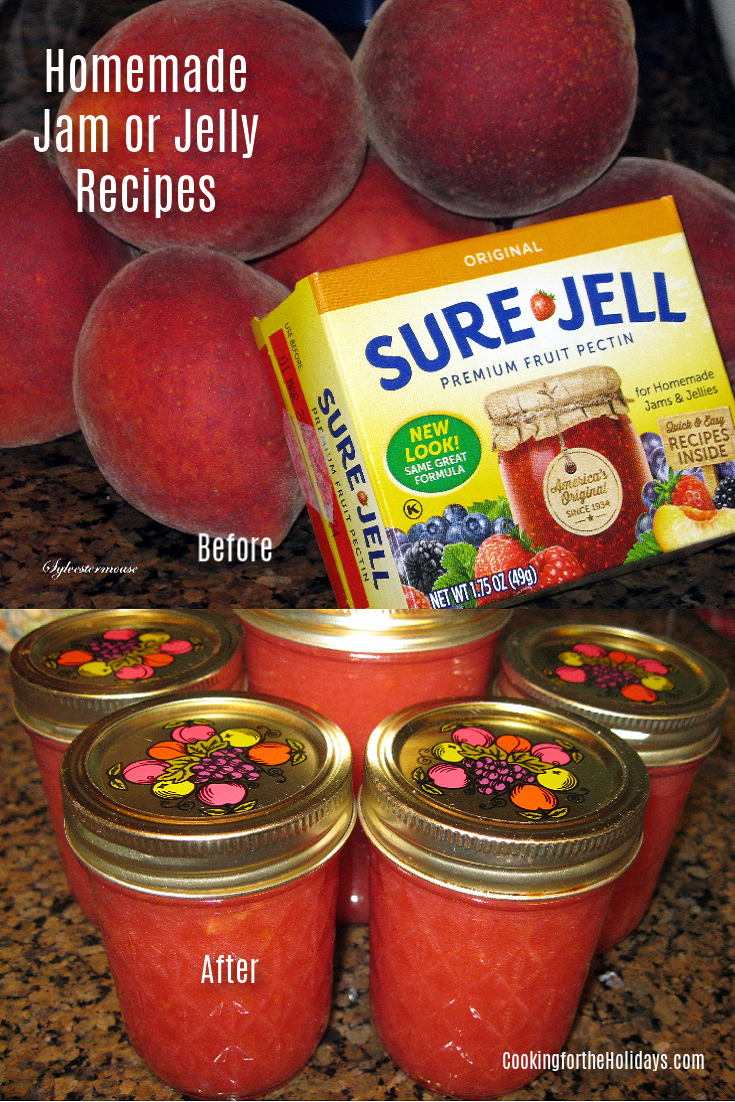 Originally posted 2018-06-13 16:52:56.
---