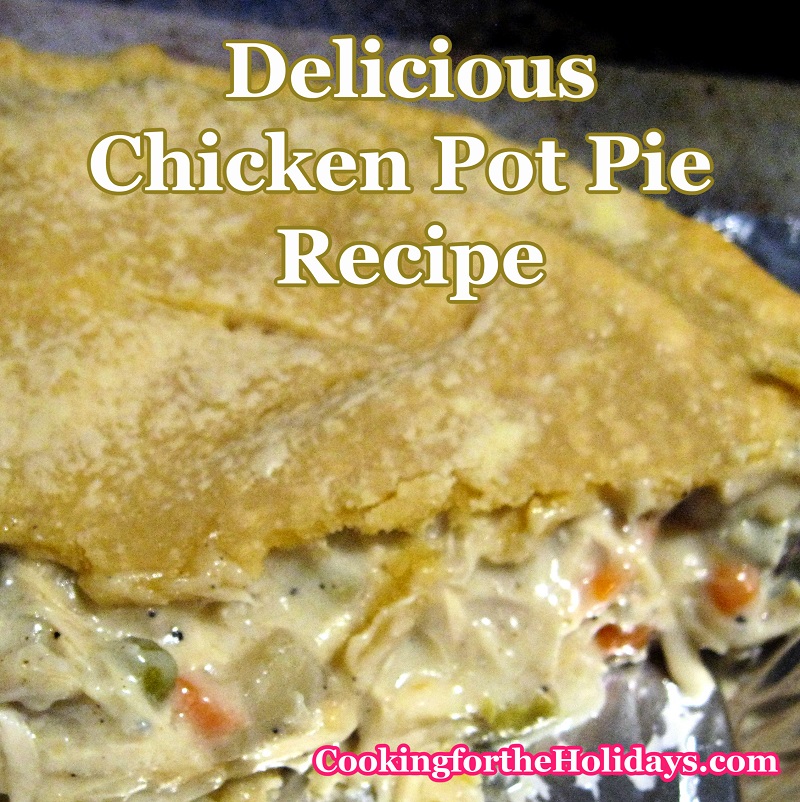 Chicken Pot Pie is one of my favorite dinners. It really is a complete meal in itself. I've been making my easy chicken pot pies for decades. I've shared my recipe with other family members and everyone adds a different seasoning that appeals to their own household.
For instance, I use Celery Salt, but my sister-in-law prefers onion powder. This recipe is delicious either way.
Another variance is in the pastry or pie shell used. When I am in a hurry, I use store bought Pet Ritz Deep Dish Pie Shells, but I have also used Pillsbury Pie Crusts.  These are both convenient and delicious.
If time allows, a homemade pie crust can't be beat!  Just remember, you do need 2 crusts, one for the bottom to fill and one for the top crust.
Choose the Right Saucepan for Chicken Pot Pie Filling
You will need a heavy-gauge sauce pan that retains heat well. I use my vintage Magnalite 4 quart sauce pan, however those are no longer made. You might be able to get one on Ebay, or in a second-hand shop before you make a chicken pot pie. This is very important! The filling sauce needs a heat retaining saucepan to properly thicken. Enameled cast iron would also be a good choice, although it is considerably more expensive, but worth it, especially if you have multiple uses for it.
Chicken Pot Pie Recipe

Cook Time

Prep Time: 1hr 45 min.

Total Time: 2½ hour

Serves: 4 – 6

Ingredients

2 Cups (approx. 1½ breasts) Chicken Breasts (Boiled and shredded)
1/3 Cup Melted Butter
1/3 Cup Flour
1¾ Cup Chicken Broth
2/3 Cup Milk
15 oz. Can Veg All Original (1 can) – Drained
2 Pie Shells or Pastry
Salt
Pepper
Celery Salt

Preparation

Set Out Pie Shells or Prepare Pastry
Preheat Oven to 350°
Melt Butter

Directions

Blend Melted Butter, Flour, Salt, Pepper, Celery Salt in Saucepan and cook over Medium Heat for 1 minute, stirring constantly
Stir in Chicken Broth & Milk
Cook until Thickened (approx. 20 minutes – varies depending on heat elements & pan)
Remove from Heat
Stir in Chicken – make sure chicken is well coated with the filling sauce
Stir in drained Veg-all
Spoon into 2 quart (36 ounce) pastry lined deep dish baking dish or deep dish Pie Crust
Top with Remaining Pastry or Pie Crust
Seal Crust Edges & Cut venting slits in top crust
Bake for 30 min. on 350°
Let set for 5 minutes before serving
One additional note about baking the Chicken Pot Pie. Because it is very heavy, you may need to set it on a cookie sheet for baking. The cookie sheet will provide the needed stability when moving the Chicken Pot Pie into the oven, and for easily removing it from the oven. It will also catch any pie crust crumbles, which helps keep you oven clean & debris free.
Image Slideshow of Chicken Pot Pie Recipe Preparation
This slideshow requires JavaScript.
The Package of Chicken Breasts
Chicken Breasts packaging most often contains either 3 or 4 chicken breasts. That is twice as much as you will need for this recipe. I recommend cooking it all at once, using the broth in this recipe, and then making chicken salad with the remaining cooked chicken. 2 meals is always better than 1!
How to Boil Chicken
Cooking chicken is easy! Simply cover your chicken breasts completely with water in a large dutch oven pan (a dutch oven is normally the large stew pot included in cookware sets). Season it with salt & pepper because you will be using the broth in the pot pie. Cook on medium high heat with the lid tilted for venting for 1 – 1½ hours. Periodically check the water level to make sure it doesn't drop below the top of the chicken.
Originally posted 2020-08-31 14:14:08.
---