I have been making fabulous single serve meatloaf mini loaves, which are cooked in the microwave, for many years.  My meatloaf is a family favorite and so very easy to prepare for dinner. This is the perfect recipe for those hectic days when you really don't have time to cook, but you wish to serve your family a delicious, hot meal that is not out of a box or can.
The meat loaves are made with fresh ground beef and a few ingredients that are easy to have on-hand if eggs and milk are a staple in your home. I keep a bag of Pepperidge Farm Herb Seasoned Classic Stuffing in my pantry just for this recipe. It lasts for a really long time.
One note of importance: I cook my single serve mini meat loaves in my Tupperware Microwave Stack Cooker set. I do not know the cooking time if the loaves are cooked in a different brand, but I would expect it to be about the same. Simply check to make sure your meat is fully cooked throughout the loaf if you use a different cooker.
This recipe is a variation of the original recipe in the Tupperware Stack-Cooked Meals Cookbook. I'll note the ingredient differences below if you wish to make the meat loaves according to the original recipe.
Mini Meatloaf Recipe
Preparation Time
| Prep Time | Cook Time | Ready In | Yields |
| --- | --- | --- | --- |
| 10 min. | 10 min. | 20 min. | 6 servings |
Ingredients for Meatloaf Mini Loaves
1 beaten Egg
3/4 Cup Herb Seasoned Stuffing (ground to fine consistency**)
1/2 Cup Milk
2 Tablespoons Ketchup*, plus more for topping
2 lbs lean Ground Beef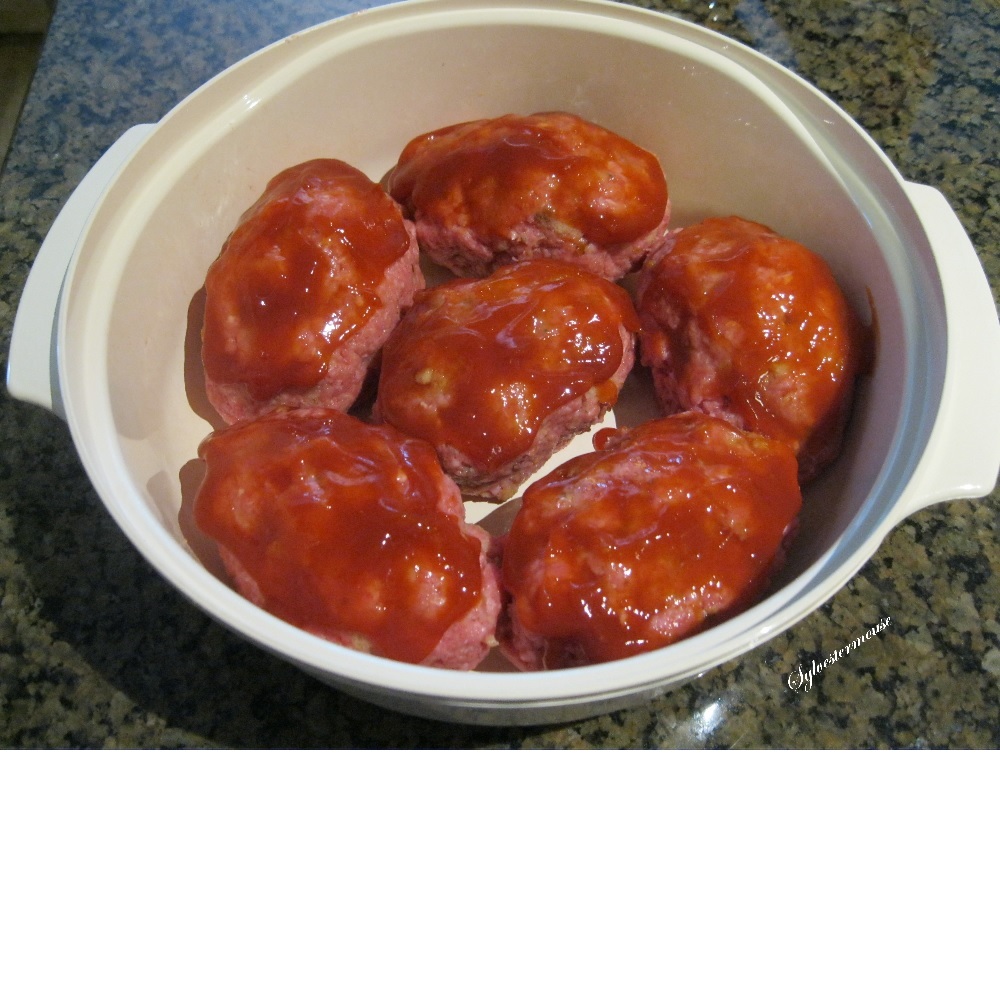 Instructions
Combine Egg, Stuffing Mix, Milk and 2T Ketchup in a medium mixing bowl
Add Ground Beef and Mix Well
Shape into 5 loaves and place them in Casserole (I use Tupperware Microwave Casserole Dish)
Add Additional Ketchup on the Top of each loaf
Microwave Cook on High for 8 to 10 minutes
*The original recipe states: barbecue sauce, chili sauce or catsup. It also includes 1 Tbsp. onion soup mix added to the ingredients.
**I ground the herb seasoned stuffing to a finer consistency with my nut chopper. Click here to read all about it!.
Tupperware Microwave Stack Cooker Steamer & Cookbook
Not only do I use this cooker set for my mini meat loaves, but I use it for steaming vegetables. I have never found a cooking steamer that works better when steaming vegetables. If you don't have this set, I highly recommend adding it to your cookware. The set like mine is only available at secondary markets. I would assume the current clear Tupperware options would be comparable, but I have not tried them. I do know the older model is a lot less expensive on Ebay than the current version.
The Cookbook is also only available on the secondary market. It is a hard-cover, spiral bound, sectioned cookbook that makes meal selection with combination side selections easy.
Originally posted 2020-09-09 18:56:46.
---