The Cupcake Pumpkin Cake
You will be amazed at how easy it is to make this awesome cupcake pumpkin!
This pumpkin, made with mini cupcakes, is a lovely decoration for your Halloween table. It is also a delicious cupcake treat.
The Cupcake Pumpkin is certain to be the talk of your Halloween party!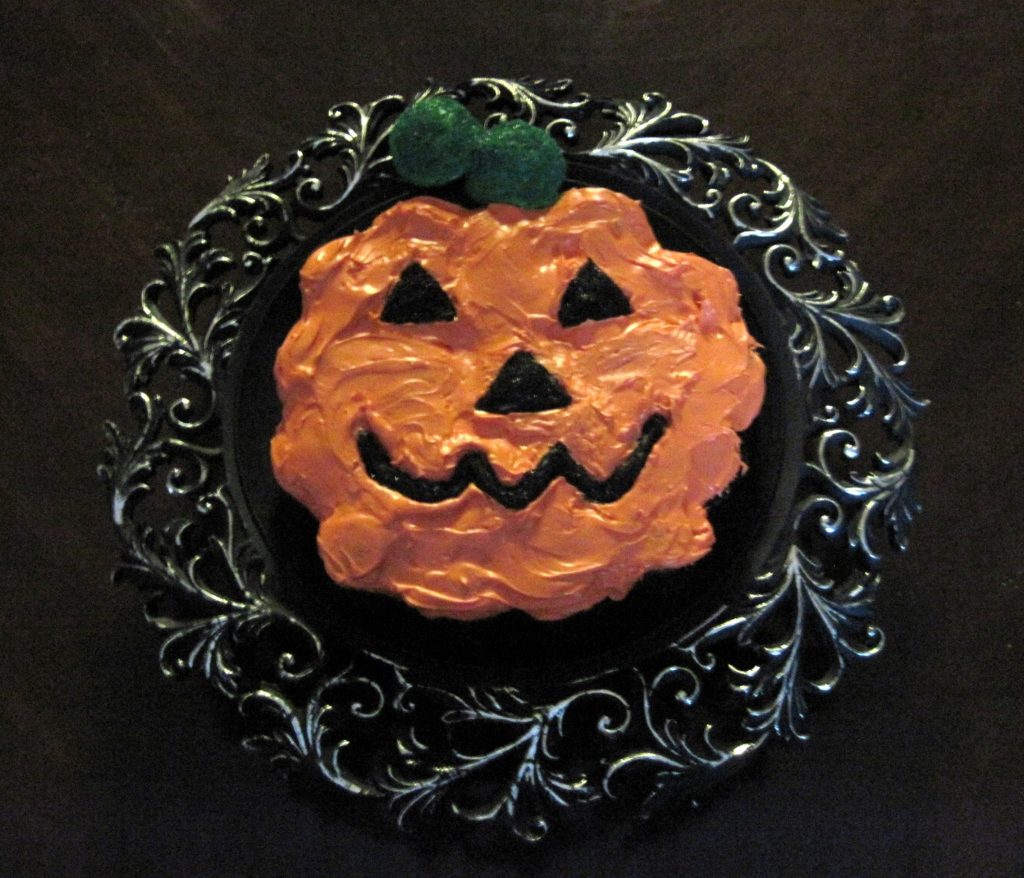 How to Begin Your Cupcake Pumpkin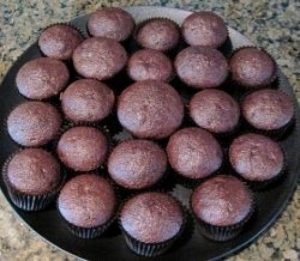 Since this article is about decorating and arranging the cupcakes to look like a pumpkin, we are going to start with the cupcakes already baked, cooled and ready for decorating.
One note about cooking your cupcakes, remember that miniature cupcakes only need about 8 min. to bake. Use a toothpick to determine exact length of baking time. When a toothpick poked in the center of the cupcake comes out clean, the cupcake is ready.
 Baker's Nonstick 24-Cup Mini Muffin PanCheck Price
My Cupcake Baking Pan
This is definitely one of my favorite baking secrets!
It is perfect for baking mini cupcakes or muffins and it is dishwasher safe.
Oh, also, it is very reasonably priced!
Ingredients Needed to Decorate a Cupcake Pumpkin
24 Chocolate Miniature Cupcakes in
Brown Cupcake baking liners
White Frosting
Black Frosting / Icing
Food Coloring
Green Sanding Sugar
Black Sanding Sugar
Black Serving Tray(optional)
Soak proof Foam Paper Plate
 Brown Mini Cupcake Baking Cup Liners 500 Count by GSACheck Price CK Products No.1 Sanding Sugar, GreenCheck Price CK Products 4 Ounce Black Sanding SugarCheck Price Pillsbury Creamy Supreme Vanilla Frosting 16oz – 2 packCheck Price Wilton Set of 8 Icing ColorsCheck Price Wilton 704-0186 Icing Pouch with Tips, 8-Ounce, BlackCheck Price
Step by Step Instructions for a Cupcake Pumpkin
Step 1: Assemble 22 mini cupcakes in the shape of a pumpkin, placing the largest cupcakes for the eyes and nose. (as shown)
Step 2: Cut 3 triangles out of soak proof Styrofoam paper plate.
Step 3: Place a triangle on each eye cupcake and on the nose cupcake.
Step 4: Color approx. 2 teaspoons of frosting green.
Step 5: Color remaining frosting orange.*
Step 6: Frost the 22 pumpkin cupcakes with the orange frosting. Frost them as one large "cake."
Step 7: Carefully remove the Styrofoam triangles.
Step 8: With the edge of a butter knife or spoon, draw a mouth pattern by removing the orange frosting for mouth.
Step 9: Frost the Eyes, Nose and Mouth with Black Frosting.
Step 10: Carefully sprinkle the Eyes, Nose and Mouth with Black Sanding Sugar. **
Step 11: Frost the remaining two mini cupcakes with Green Frosting.
Step 12: Cover the green cupcakes with green sanding sugar and place them at the top of the pumpkin for the stem.
* If you do not have orange food coloring, combine 3 parts yellow and 2 parts red for orange color.
** It is easier to place a small pile of sanding sugar in the center of the eyes and nose, then using the tip of a spoon, gently push the sanding sugar to cover the black area.
Step by Step Photos of How to Decorate a Cupcake Pumpkin
This slideshow requires JavaScript.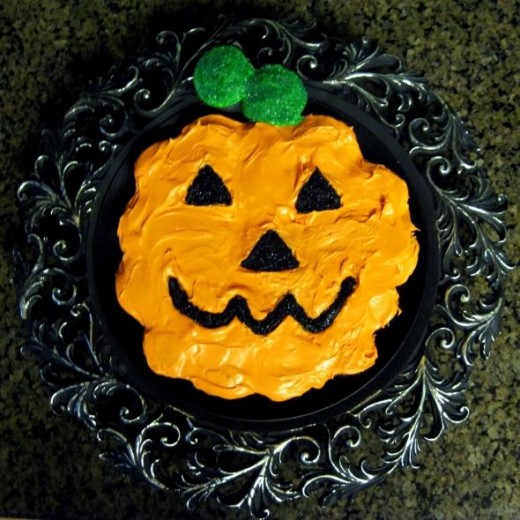 My Original Inspiration
This book was a birthday gift to me from my mother.
Let me tell you, it is absolutely fabulous!!!
There are so many recipes and craft ideas that I want to make, I could easily be busy until my next birthday.
 Gooseberry Patch Halloween by Gooseberry PatchCheck Price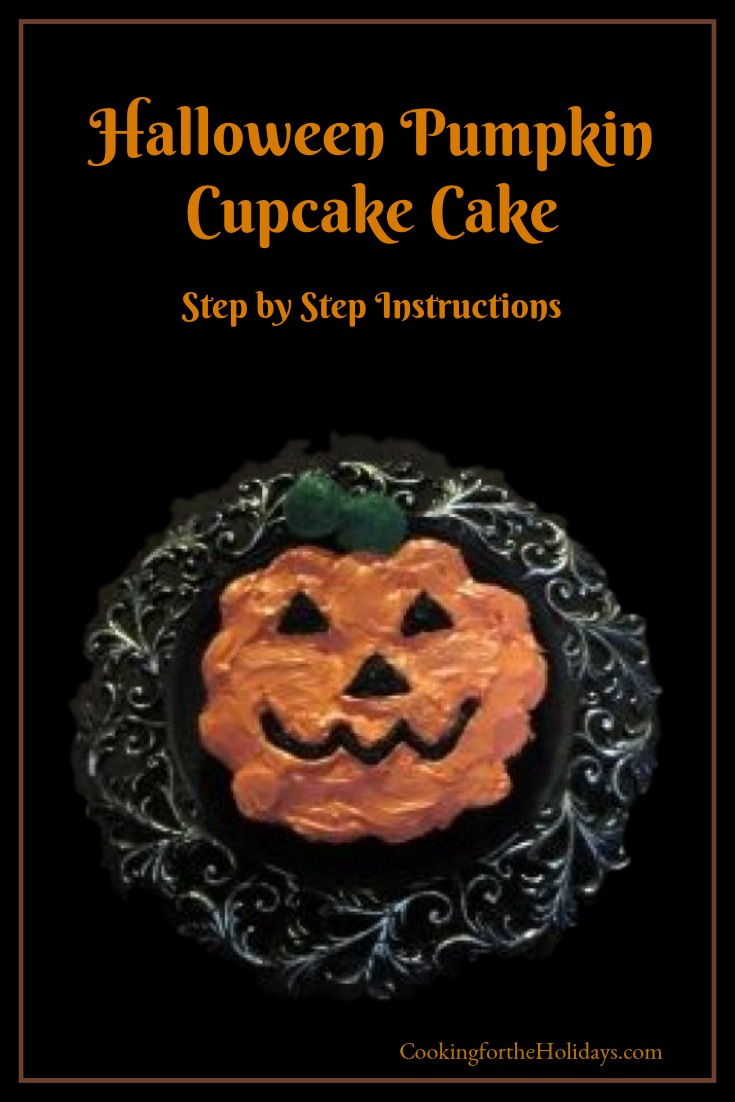 Save
Originally posted 2017-09-13 15:28:35.
---