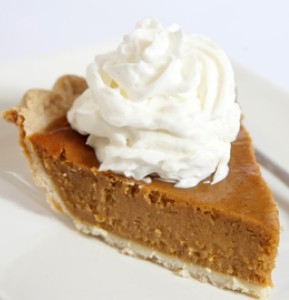 Pumpkin pie happens to be a family favorite. Both my mother and my grandmother made pumpkin pies when I was growing up, but I have been the Pumpkin Pie chef in our family for many years now.
You love simple recipes that have easy to follow recipe directions right? Making a delicious pumpkin pie recipe doesn't have to be complicated, even if it does look like a lot of ingredients and time to prepare. Having a simple recipe with precise instructions for easy cooking is the key to making a delicious pumpkin pie for your holidays.
Pumpkin Chiffon Pie Recipe

Prep time: 3 hours
Yields: 1 Pie (Serves 6-8)

2 Eggs (separated)
1 Cup Sugar
1 Tablespoon (1 Envelope) Unflavored Gelatin
1 3/4 Cups Pumpkin (I use canned pumpkin)
1 Cup Pet Milk (Evaporated Milk)
1/4 teaspoon Ground Ginger
1/2 teaspoon Ground Cinnamon
1/2 teaspoon Ground Allspice
1/2 teaspoon Ground Nutmeg
1/2 teaspoon Salt
Baked Pie Crust

*You can substitute 3/4 teaspoon of Pumpkin Pie Spice for all of the other spices (ginger, cinnamon, allspice & nutmeg)

Instructions

Prepare & bake pie crust.
In a small mixing bowl, beat the egg yolks.
In a large pan, or double boiler, Combine Pet milk, pumpkin, 1/2 cup sugar, ginger, cinnamon, allspice, nutmeg, salt and beaten egg yolks. Stir well.
Over medium heat, bring mixture to a boil, stirring constantly. (Cook time to boil varies, but usually takes approx. 25 – 35 min.)
Mix in the gelatin. Remove from heat and allow the mixture to completely cool. I usually put the entire pan into the refrigerator until cool. This takes at least an hr.
In the meantime, beat the egg whites until soft peaks form. Gradually mix in the remaining 1/2 cup sugar, and continue beating until firm to make a meringue.
When the pumpkin mixture is cold and thickened, fold the meringue into the pumpkin mixture.
Pour into the prepared pie crust.
Chill until firm, at least 1 hour.
Recommended Brands for Pumpkin Chiffon Pie Recipe Ingredients
I have been using Libby's pumpkin for many, many years now and it has never failed me! I can highly recommend this brand of canned pumpkin.
I also recommend "Pet" Milk for Pumpkin Chiffon pies. I grew up hearing "Pet Milk". I learned to cook with Pet Milk. I was an adult and already married before I realized Pet Milk was Evaporated Milk and there were other brands available.
Because I have been told many times that people have no idea what gelatin packets are, I am including those below too.
Libby's 100% Pure Pumpkin, 15 OunceCheck Price Pet Evaporated Milk 12 OZCheck Price Knox Gelatine Unflavored, 4 Count (Net Wt. 1 Ounce)Check Price
Pumpkin Pie Spice
This this the pumpkin pie spice I mentioned above if you would like to use it as a substitute for the other spices. It is less expensive to buy the one pumpkin pie spice instead of the separate cinnamon, allspice, nutmeg and ginger if you don't use those spices enough to justify the cost of separate bottles.
McCormick Pumpkin Pie Spice, 1.12 ozCheck Price
Originally posted 2015-12-15 19:09:38.
---