As a hostess it is important to me to have plenty of time to spend with my family and guests.  In order to do this I start in early November to stock my freezer with items that I can freeze and pull out later to serve guests.  One of the items that I like to have on hand is mini muffins.  Mini Muffins have a variety of uses including  but not limited to:
Breakfast Pastries ( great for those overnight guests)
Mid morning or afternoon snack with a hot beverage
Bread to accompany dinners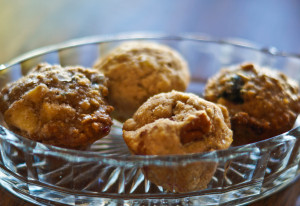 Mini Muffins
I have found the muffins are easy to make and freeze.  I start with a basic muffin recipe and then add different ingredients in order to have a wide selection of mini muffins.  Some of the items I add to the basic recipe include:
blueberries
cranberries
pecans
bananas
pumpkin
apples
My Basic Muffin Recipe
 Ingredients

1 egg
3/4 cup milk
1/2 cup canola oil
1 cup all-purpose flour
1 cup whole wheat flour
1/3 cup brown sugar (I use Splenda blend)
3 teaspoons baking powder
1 teaspoon salt
First preheat your oven to 375 degrees then spray 18 mini muffin tins.  Whisk the egg in a bowl and add the milk and canola oil mixing well.  In a separate bowl mix together the rest of the ingredients.  Stir the dry ingredients into the wet ingredients till they are completely moistened.  They may still be a bit lumpy.  Fill the muffin tins 3/4 full with the batter.  Bake for 10-12 minutes till a toothpick comes out clean.
Adding Fruit to the Recipe
For a  different flavor I add pumpkin or mashed bananas to my recipe.  In order to do this I reduce the milk to 1/3 of a cup and then add 1 cup of the fruit to the wet  ingredients.  I also add 1 teaspoon of cinnamon.
Making a Variety in one Batch
Sometimes I make a basic batch of muffins and fill the mini muffin pans.  I then have an assortment of ingredients like berries and nuts and I drop a few of the different ingredients into each muffin and push them into the batter with a knife.  I might make some blueberry, some cranberry nut, and others I'll just add some nuts.  I like to have a wide variety of muffins for use over the holidays.
Freezing the Muffins
In order to freeze the muffins for future use it is important to cool them completely after baking.  Once they cool I put them into a zip-lock bag and put them in the freezer.  When I am ready to serve them I take out the desired number of muffins and put them on a serving platter.  They will thaw rather quickly.  For a quick snack during a busy day I will pop one of the frozen muffins into the microwave for 20 seconds and I have a great afternoon pick me up.
Use Any Recipe
You can use most any muffin recipe to make the  mini  muffins.  If the recipe is for full size muffins just reduce the oven temperature by about 25 degrees and reduce the cooking time to 10-12 minutes.
Here is another recipe that I use for my mini muffins.  The recipe card is available at Zazzle.  The recipe calls for 12 regular muffins but I alter it for mini muffins by reducing the heat to 375 and reducing the time to 10 minutes.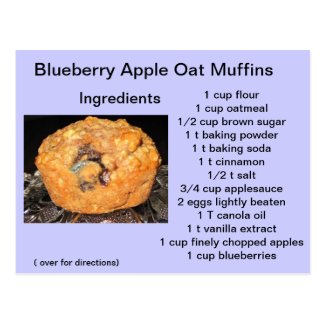 Blueberry Apple Oat Muffins Postcard
by
mbgphoto
View Blueberry apple oat muffins Postcards online at
zazzle
Originally posted 2014-11-07 14:14:05.
---