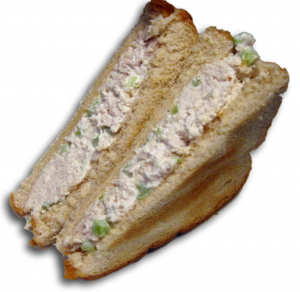 Anytime I boil chicken breasts for a casserole, I boil extra chicken to make Homemade Chicken Salad. It doesn't take a lot of chicken for my Chicken Salad recipe, usually only 1 breast, but it is easy to make more.
This recipe is based on 2 cups of chopped chicken, but I frequently double the recipe for more sandwiches. It is always wonderful to have a home-cooked lunch the following day and there is not much better than a great chicken salad sandwich.
Basic Chicken Salad Recipe

Cook Time

Prep Time: 5 min.

Total Time: 1½ hour

Serves: 4 – 5 Sandwiches

Ingredients

2 Cups cooked & shredded Chicken
½ Cup Mayonnaise (I prefer Kraft Mayonnaise)
1 Tablespoon Lemon Juice
1 Stick of Celery (aka 1 rib of a celery stalk)
Pepper to Taste

Additional additives if desired include:  grapes, onion, hard-boiled eggs, almonds, pickles, tarragon, dill, parsley, or even mustard.  This basic recipe is always a great place to start, or serve exactly as is!  If you have differing tastes in your home, you might wish to separate some of the basic chicken salad recipe into a separate bowl and include the additives.

Directions

 Cook, De-bone & Shred 1 Chicken Breast – (Boil chicken breast for 1 hr.)
 Wash, Dry & Chop Celery Stick (Dice into small cubes)
 In a medium bowl, stir together mayonnaise & lemon juice.  Add the shredded chicken and chopped celery.  Pepper to taste.
 Serve on toasted or plain bread with or without lettuce
I cook chicken at least once a week.  Most chicken casserole recipes are made with 3 – 4 Chicken Breasts.  In our grocery store, the chicken breasts come packaged with 3 breasts per package.  Therefore, most often I am cooking either 3 very large chicken breasts or 6 breasts at a time.   It is easy to set aside 2 cups of cooked chicken for chicken salad.  We never miss that bit of chicken in enchiladas or any of the chicken casseroles.  But, we definitely enjoy eating Chicken Salad Sandwiches the next day.
This recipe is also perfect for leftover turkey on Thanksgiving!
Chopping Celery
I'm not particularly fond of chopping celery or onion with a knife, mostly because of the strong smell.  Even if I am only cutting up 1 stick of celery, I pull out my dishwasher safe vegetable chopper.
 Prepworks by Progressive Fruit and Vegetable ChopperCheck Price
Originally posted 2018-04-24 20:35:58.
---