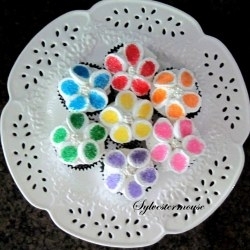 Easy Marshmallow Flower Cupcakes
Making Marshmallow Flower Cupcakes is really easy! These flower cupcakes are perfect for Easter, birthdays, showers, luncheons, or any party. They are really pretty too!
Add flowers and sparkle to your delicious cupcakes by following the instructions below. Step by step photos for making marshmallow flower cupcakes are also included in this article to help you make your own lovely flower cupcakes.
You simply will not believe how easy it is to decorate your cupcakes with marshmallow flowers!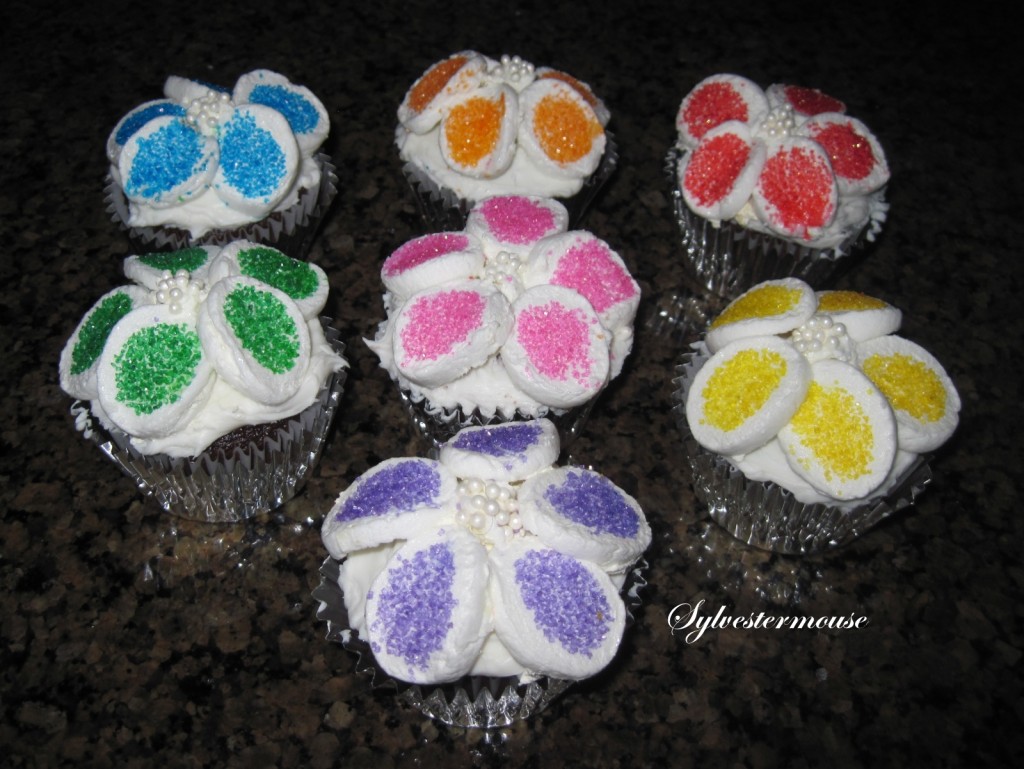 How to Begin Making Marshmallow Flower Cupcakes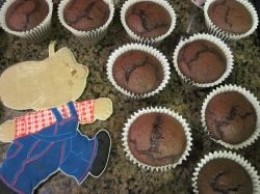 This article focuses on how to decorate cupcakes, therefore, we are going to start with the cupcakes already baked, cooled and ready for decorating.
Use any cupcake recipe or purchase ready made cupcakes to decorate. If you are making chocolate or dark cupcakes, you will want to use a cupcake liner that will hide the color of the cupcake. Since I made Devil's food cupcakes, I did use foil cupcake liners.
I chose a white frosting recipe for my marshmallow flower cupcakes, but any frosting will work for these cupcakes. Very little frosting shows once the marshmallow flower is on the cupcake.
Foil Cupcake Liners
Foil cupcake liners are perfect for covering the color of the cupcake when making Marshmallow Flower Cupcakes.
Fox Run Silver Foil Standard Bake Cups, 32 CupsCheck Price
How to Make Marshmallow Flower Cupcakes
Step by Step Instructions for Making Marshmallow Flowers
Step 1: Cut 1 Marshmallow into 5 sections.
Step 2: Place the stencil or template on one marshmallow section. (I used the mini egg stencil featured below)
Step 3: Sprinkle Sanding Sugar on the sticky side of marshmallow section.
Step 4: Gentle press the sanding sugar to hold in place and shake off excess sanding sugar.
Step 5: Carefully remove the stencil/template
Step 6: Make 5 marshmallow "petals" for each flower.
Step 7: On the frosted cupcake, start with the center of each flower. Pinch a section of a marshmallow and make a small ball (sticky side out). Place the marshmallow ball in the center of the cupcake and drop the Pearl Gems in place.
Step 8: Carefully place each petal, overlapping the edges slightly, to create the flower.
Marshmallows and Stencils Needed for Making Flowers to Decorate the Marshmallow Flower Cupcakes
I recommend Kraft Jet-puffed Marshmallows. (Regular size, not mini or jumbos) The Kraft marshmallows are easy to cut and shape. They are also delicious!
8 stencils are included in the feature package of stencils below. I used the miniature egg stencil on the marshmallow flower petals.
Jet Puffed Marshmallows, 10 ozCheck Price Wilton Easter Cupcake & Cookie StencilsCheck Price
Photos of How to Make a Marshmallow Flower – In Step by Step Order to Create a Marshmallow Flower Cupcake
This slideshow requires JavaScript.
You can stop the slideshow on an individual photo at anytime by simply clicking the stop button. Restart it again by clicking the play arrow. Use the side arrows to easily slide from photo to photo.
Betty Crocker Pearls Cupcake GemsCheck Price
Pearl Cupcake Gems for the Center of the Marshmallow Flowers
This is the exact Pearl Cupcake Gems I used for the center of the marshmallow flowers. They stand up nicely, plus the pearl finish gives a beautiful, shiny center to that flowers, which is quite complimentary to the sanding sugar used on the petals.
Not only are they lovely, the pearl cupcake gems are edible!
Choose Your Favorite Sanding Sugar Colors For Decorating Your Marshmallow Flower Cupcakes.
There are dozens of colors of Sanding Sugar available
As you can probably tell by looking at the pictures, I used red, orange, yellow, green, blue, lavender and pink for a rainbow of colored flower cupcakes on my serving plate. Because the marshmallows are a wee bit sticky, the sanding sugar adheres to them perfectly with a light dusting.
CK Products 4 Ounce Sanding Sugar Bottle, GreenCheck Price CK Products 4 Ounce Sanding Sugar Bottle, BlueCheck Price CK Products 4 Ounce Sanding Sugar Bottle, PinkCheck Price CK Products 4 Ounce Sanding Sugar Bottle, YellowCheck Price CK Products 4 Ounce Sanding Sugar Bottle, LavenderCheck Price
Marshmallow Flower Cupcakes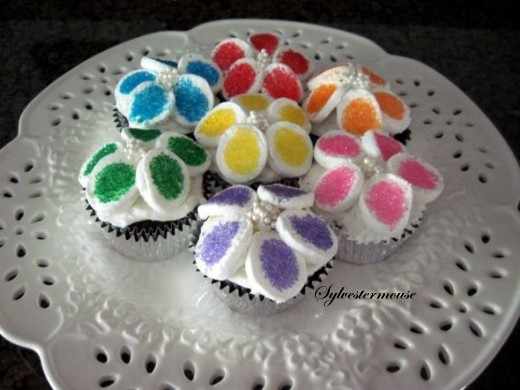 Originally posted 2015-04-09 14:13:46.
---