A Delicious Recipe for Chicken Enchiladas
My family loves my Chicken Enchiladas recipe! My enchiladas are fairly easy to make and they really are quite delicious, even if I do say so myself.
This recipe makes more than enough enchiladas for our family of four. Normally, I freeze half of the enchiladas for another dinner. However, if we have company, there is plenty to serve 8 to 10 people.
Note: If you prepare the entire recipe, you will need 2 casserole dishes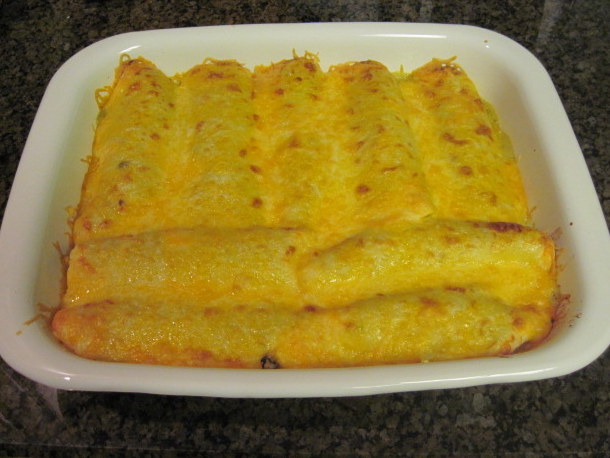 Chicken Enchilada Recipe

Cook Time

Prep Time: 30 – 45 min.

Total Time: 2+ hours

Serves: 8 – 10

Ingredients

3 -4 Chicken Breasts (boiled and shredded)
Flour Tortillas
1 Lg. Can Green Enchilada Sauce (28 oz)
1 pkg. Cream Cheese (8 oz)
1 Can Black Beans
2 Cups Rice (cooked)
2 – 3 Cups shredded Colby & Monterey Jack Cheeses
Toppings when served: Lettuce and Taco Sauce (if desired)

Directions

Cook the Chicken Breasts ~ I boil my chicken breasts for 1 hr., allow to cool and then tear into pieces.
Cook 2 Cups Rice
In a large mixing bowl, Mix the Cream Cheese with 2 Cups of the Green Enchilada Sauce (I use a mixer for a creamer texture)
Stir the shredded chicken into the cream cheese mixture.
Drain & rinse black beans
Pour and spread 1/2 cup of remaining Green Enchilada Sauce into the bottom of each baking dish. (approx. 9 x 13)
Assemble enchiladas: Layer Tortilla, approx. 2 tablespoons rice, approx. 1 teaspoon black beans, then chicken mixture. (adjust this to your own personal tastes and preference)
Roll up the tortillas and place them seam side down in the prepared baking dishes.
After all of the tortillas are rolled and placed in the baking dishes, top with remaining Enchilada Sauce.
Top with 2 – 3 cups shredded Colby & Monterey Jack Cheeses
Cover and bake for 25 min. on 375°
Uncover the enchiladas and broil for 4-5 minutes until the cheese topping is browned.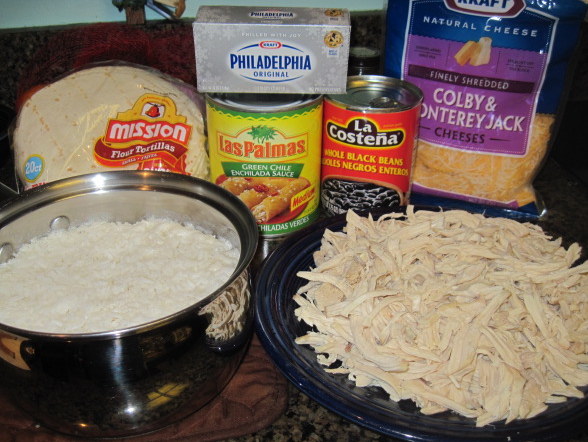 Size of the Flour Tortillas
I actually prefer the small tortillas when I am making the Chicken Enchiladas simply because, each enchilada is so filling, some of us can only eat one.
However, the men in my family prefer the larger tortillas since they will hold more meat and filling.
It really is just a matter of preference since they are both equally delicious.
Mission, 6″ soft Flour Tortillas, 20 countCheck Price Mission, 10 Inch Burrito Flour Tortillas, 8 ctCheck Price
&
Step by Step Photos – Preparing Chicken Enchiladas
This slideshow requires JavaScript.
Cornigware French White Oblong Casserole, 3-QuartCheck Price
Recommended Baking Dish
I love my Corningware Baking Dish! It has served me and my family for many years now and it may well be my favorite kitchen item. Our favorite meals are cooked in this dish, including the lasagna and the featured Chicken Enchiladas.
After nearly 40 years of cooking, I can easily recommend the Corningware casserole dishes. They are oven, microwave and dishwasher safe and clearly stand the test of time.
How Do You "Dress" Your Chicken Enchiladas?
I prefer my Chicken Enchiladas without any additional dressings.
However, my husband prefers his Chicken Enchiladas topped with lettuce and Taco Sauce.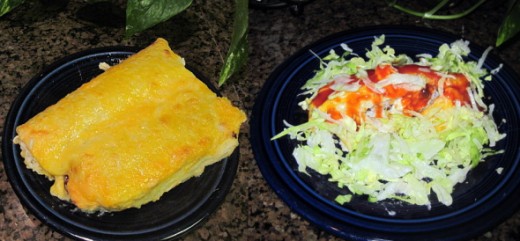 How about you? Which way do you prefer?
Originally posted 2016-05-11 13:42:56.
---