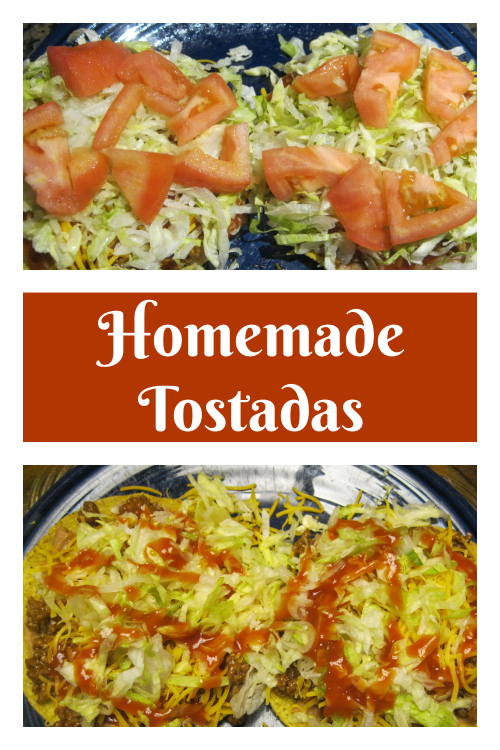 Tostadas are one of my family's favorite quick dinners!  We all have those very busy days when we need a delicious fast and easy meal.  Beef Tostadas are the perfect solution.
Preparing a tostada meal is similar to preparing tacos. The shape of the shell is the only major difference.  While a taco shell is curved to envelop it's contents, the tostada shell is flat.  The meat and dressings are layered on the shell.  To eat it, you hold it like you would a piece of pizza.  Personally, I prefer a tostada to a taco when preparing them at home.  However, if I am dining out, I am more likely to order a soft taco or an enchilada because they are not quite as messy as a hard shell entree.  That makes the tostada an extra special treat when eating at home.
Tostadas are very easy to make.  You simply brown the beef in a skillet, add taco seasoning mix to the beef, bake the Tostada shells in the oven, then layer your tostadas with beef, refried beans, and your favorite toppings.
Tostada Recipe
| Prep Time | Cook Time | Ready In | Yields |
| --- | --- | --- | --- |
| 10 min. | 15 min. | 30 min. | 10 servings |
1 Box Tostada Shells
(Ortega brand makes 10 & Old El Paso brand makes 12)
2 packages Taco Seasoning Mix  (Old El Paso brand recommended)
1 ⅓ Cups Water
Taco Sauce – Mild, Medium or Hot  (Ortega brand recommended)
1 Small Can Refried Beans  (Old El Paso Vegetarian recommended)
2 lbs Ground Beef or Ground Chuck
Diced Tomato
Shredded Lettuce
Shredded Cheddar Cheese
Directions
Brown the ground chuck and drain.  Stir in seasoning mix and water.  Simmer until thickened (about 15 minutes).  In the meantime, bake the tostada shells (single layer) on a baking sheet in preheated oven at 350° for 4 minutes.  Top shells with refried beans, beef, taco sauce, and additional toppings (lettuce, tomato, cheese)
Ingredients for Homemade Tostadas
 Ortega Tostada Shells, 4.8 Ounce, 10 Count (Pack of 12)Check Price Old El Paso Taco Seasoning Mix, Mild, 1 ozCheck Price Old El Paso Refried Beans, Vegetarian, 16 ozCheck Price Ortega, Taco Sauce, 8oz Glass Jar (Pack of 3) (Choose Heat) (Mild)Check Price
Originally posted 2021-11-17 18:14:41.
---