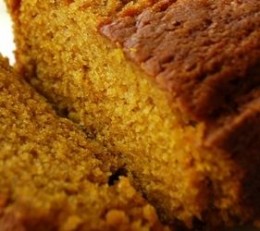 This is a Quick and Easy Pumpkin Bread Recipe.
This recipe can also be adapted to make pumpkin bread muffins in stead of a single pumpkin bread loaf if you prefer the individual serving style that muffins offer. I have included those instructions at the bottom of the recipe.
We really do love pumpkin dessert recipes in my family, but Pumpkin Bread also makes a delicious breakfast or midday snack.
Ingredients for Pumpkin Bread Recipe

Prep time: 20 min
Cook time: 50 min
Yields: serves 6-8

1 ½ cups flour
1 teaspoon salt
1 cup sugar
1 teaspoon baking soda
1 cup pumpkin (I use Libby's canned pumpkin)
½ cup olive oil (can sub with canola or vegetable)
2 eggs
Beaten
¼ cup water
½ teaspoon cinnamon
½ teaspoon nutmeg
½ teaspoon allspice
½ cup walnuts (optional)

Instructions

Preheat oven to 350°F.
Sift together flour, salt, sugar, and baking soda.
In a separate bowl combined pumpkin, oil, eggs, water, and spices.
Then, combined with dry ingredients but, do not mix too thoroughly. Stir in walnuts.
Pour into a well-buttered 9 x 5 x 3 inch loaf pan.
Bake 50-60 minutes until a thin skewer poked in the very center of the loaf comes out clean.
Turn out of the pan and let cool on a rack.

Pumpkin Bread Recipe Can Be Adapted for Muffins

If desired, you can bake this recipe in a muffin tin. The muffins come out just as moist as the bread.

Simply Adjust your baking time to:

20 – 25 minutes
Libby's 100% Pure Pumpkin, 15 OunceCheck Price
Originally posted 2015-11-09 15:35:19.
---