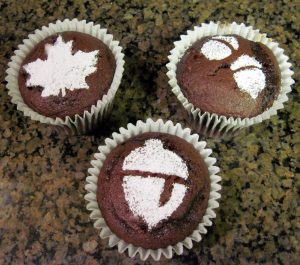 Stenciled Cupcakes – Decorate Holiday Cupcakes with Stencils
Decorating stenciled cupcakes for fall or for the holidays is a fast and easy way to decorate cupcakes with festive designs.
With just a bit of powdered confectioner's sugar, I turned these chocolate cupcakes from drab to fab in a few short minutes.
It is really very simple.  Below I will show you the three quick steps to creating these lovely Fall Cupcakes.
Choose the Right Cupcake Recipe
When stenciling with Confectioner's Sugar, I often leave off the icing and just stencil the top of the baked cupcake.  Because there is no frosting or icing, it is important to choose the right cupcake recipe.
For the cupcakes featured in this article, I made Devil's Food cupcakes.  For convenience, I used a box mix, but I have recommended a few cupcake recipes below that do not require frosting.
I also prefer a mixing bowl with a pouring spout.  It just makes it so much easier to fill the cupcake liners.
Cupcakes without Icing
I Am Surrounded by Cupcakes Waiting to Be Decorated with Fall Stencils – Bake Cupcakes and Let Them Completely Cool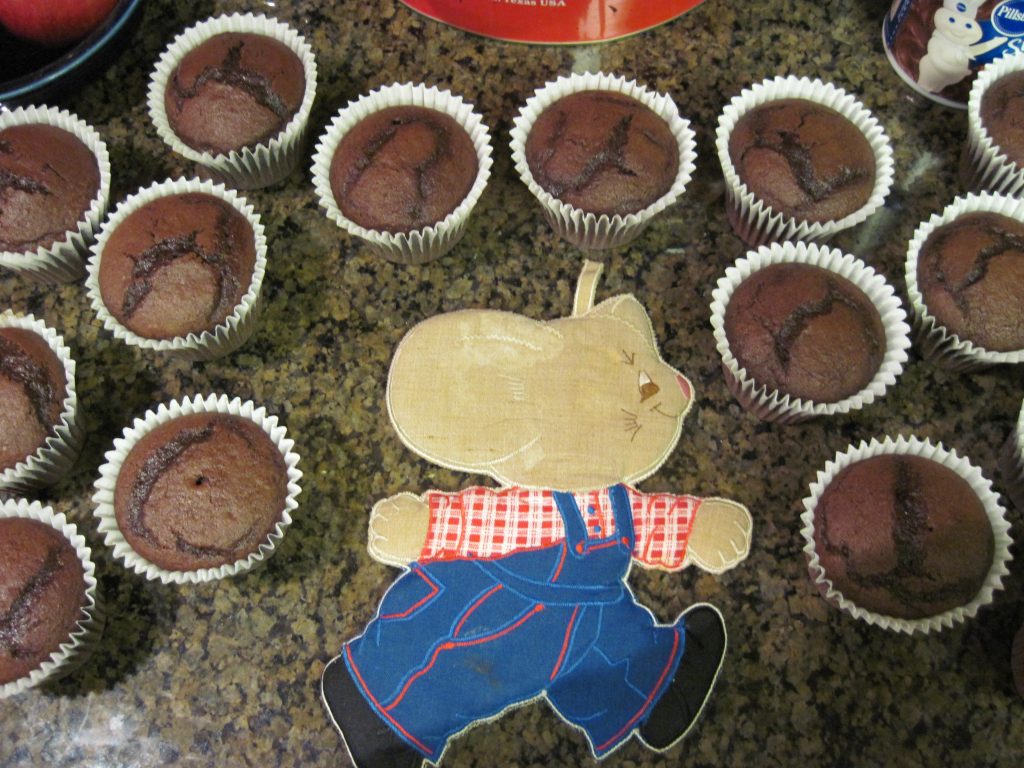 If you add Confectioner's Sugar while the cupcakes are hot, the confectioner's sugar will be absorbed by the cupcake, therefore your design will basically disappear.
Supplies You Will Need to Get Started Stenciling Cupcakes
Baked Cupcakes ~ I baked Devil's Food cupcakes Stencils or Cookie Cutters Confectioners Sugar
Decorators note:   An essential tool for decorating with Confectioner's sugar is a cup with a mesh top.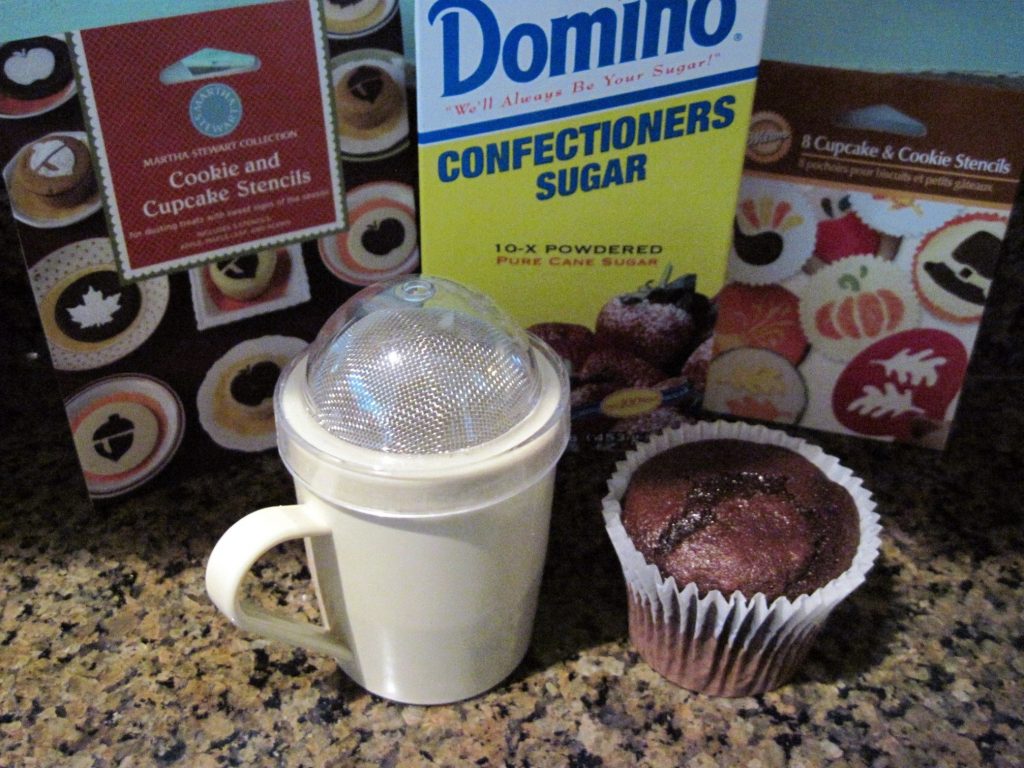 Domino Powdered Confectioners Sugar 16ozCheck Price The Pampered Chef Flour/Sugar ShakerCheck Price
 Designer Stencils C073 Holiday Cupcake and Cookie Stencil Tops, Beige/semi-transparentCheck Price
Cupcake Stencils for Stenciled Cupcakes
On the cupcakes in this article, I used the Martha Stewart Fall Collection Stencils and the Wilton Autumn collection for a Thanksgiving design. Both sets are hard to find now.
The Maple leaf and the large acorn are both a part of the Martha Stewart Fall Collection of stencils.
The two little acorns are a stencil from the Wilton Autumn collection.
If you do not see a stencil that you like or if you have a treasure trove of cookie cutters, you can use small cookie cutters instead of stencils.
You can see several cupcakes I decorated with cookie cutters in my article, Easy Stenciled Cupcakes for Halloween.
Step by Step Photos with Instructions to Decorate Cupcakes with Confectioner's Sugar
This slideshow requires JavaScript.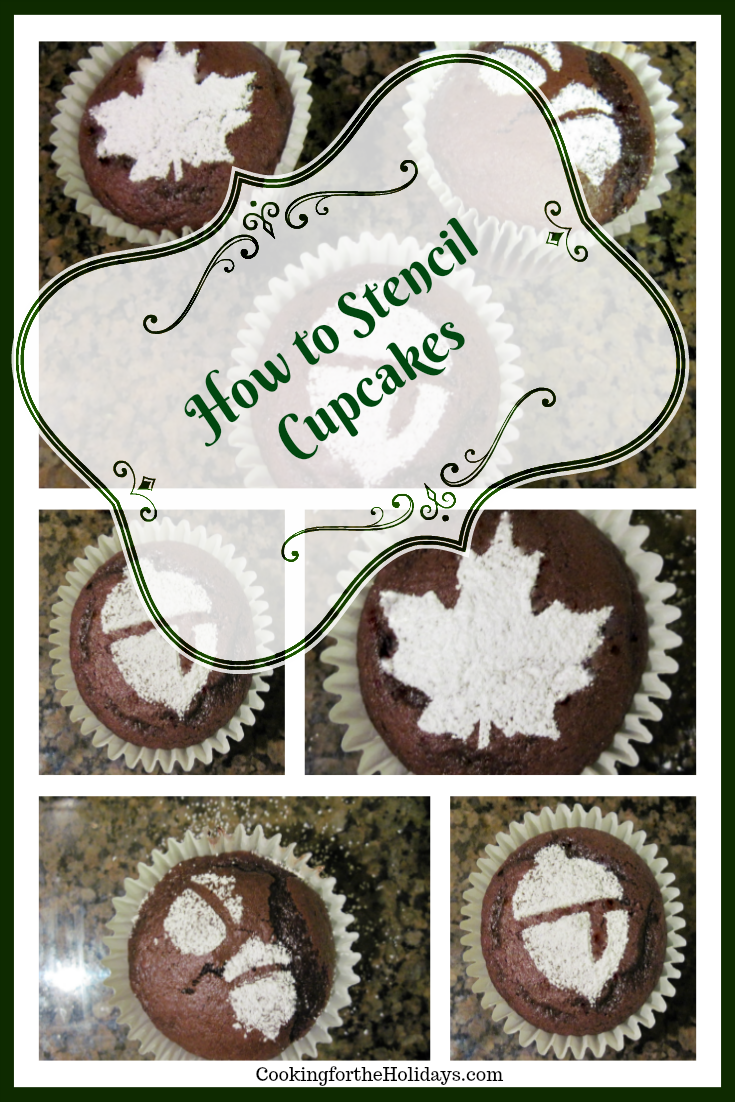 This recipe article was originally published by me in 2010 on a different site that no longer exists.
Unless otherwise noted with the individual photo, all Photos are mine and should not be used without written permission. ©Sylvestermouse
Originally posted 2017-12-13 15:41:05.
---