Chocolate Dipped Pears are Fun to Make and Delicious to Eat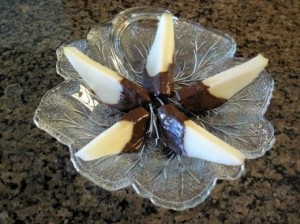 Pears have great health benefits and are a delicious source of Vitamin C. Personally, I think pears are a pretty fruit and I simply could not resist dipping them in chocolate and serving them as an afternoon snack recently.
It only takes a few minutes to melt chocolate and slice a pear. With very little effort, I was able to serve Chocolate Dipped Pears which made a delicious, healthy treat for my entire family. It really made me wonder why I don't buy pears more frequently along with my normal purchases of bananas and apples.
Supplies and Ingredients for Chocolate Covered Pears
Dalla Piazza Apple Slicer/CorerCheck Price
Easy Directions for Chocolate Dipped Pears
Step 1: Cover a cookie sheet with wax paper ~ The cookie sheet will make it easier to move your Chocolate Covered Pears.
Step 2: Melt Your Chocolate ~ If you use Saco Dolci Frutta, you can melt the chocolate in the microwave in their package container. Melt the chocolate in the microwave for 2 minutes on medium and stir the chocolate until it is completely melted. Other chocolates will need to be melted in a double boiler or a microwavable dish.
Step 3: Wash, Dry and Slice Your Pears
Step 4: Dip the Pears in the chocolate
Step 5: Set on wax paper to cool
Step 6: When you have dipped all of your pears in chocolate, serve or eat.
Best if not refrigerated
Step by Step Photos of Dipping Pears in Chocolate
This slideshow requires JavaScript.
You can stop the slideshow on an individual photo at anytime by simply clicking the stop button. Restart it again by clicking the play arrow. Use the side arrows to easily slide from photo to photo.
Serve Chocolate Dipped Pears on Your Favorite Serving Tray
Originally posted 2014-11-25 18:14:44.
---