Chocolate Covered Oranges are Fun to Make and Delicious to Eat
Oranges are a tasty, juicy fruit packed with Vitamin C and I love chocolate dipped oranges or chocolate covered oranges. The combination of citrus and chocolate makes a sweet and tangy treat which culminates in an awesome explosion of flavor!
It is very easy to make Chocolate Covered or Chocolate Dipped Oranges. The hardest part is peeling the orange.
An Easy Way to Peel an Orange
An orange is much easier to peel with a little orange peeler.
Simply cut the orange peel into sections and peel away the orange peel.
2 pcs Citrus Peeler in Bright Orange ColorCheck Price
Supplies and Ingredients for Chocolate Dipped Oranges
Oranges
Chocolate for Melting ~ I prefer Saco Dolci Frutta featured below
Wax Paper
Dolci Frutta Hard Chocolate Shell, 8 Ounce (Pack of 2)Check Price Saco Dolci Frutta Creamy White Shell for Fruit, 8-Ounce Canisters (Pack of 12)Check Price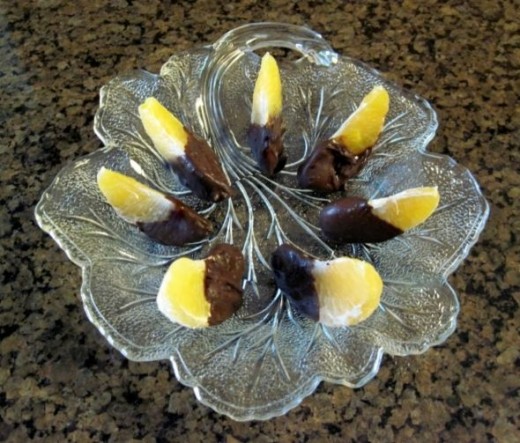 Easy Directions for Chocolate Covered Orange Slices
Step 1: Cover a cookie sheet with wax paper ~ The cookie sheet will make it easier to move your Chocolate Covered Orange Slices.
Step 2: Peel Orange, divide into slices, gently dry slices
Step 3: Melt Your Chocolate ~ If you use Saco Dolci Frutta, you can melt the chocolate in the microwave in their package container. Melt the chocolate in the microwave for 2 minutes on medium and stir the chocolate until it is completely melted. Other chocolates will need to be melted in a double boiler or a microwavable dish.
Step 4: Dip the Orange slices in the chocolate
Step 5: Set on wax paper to cool
Step 6: When you have dipped all of your orange slices in chocolate, serve or eat.
Best if not refrigerated
Note: You could also dip the entire orange slice in the melted chocolate for completely chocolate covered oranges! Simply remove them from the chocolate with a toothpick to keep from smudging the chocolate and place them on the waxed paper.
Step by Step Photos of Making Chocolate Covered or Dipped Oranges
This slideshow requires JavaScript.
Chocolate Covered Orange Slices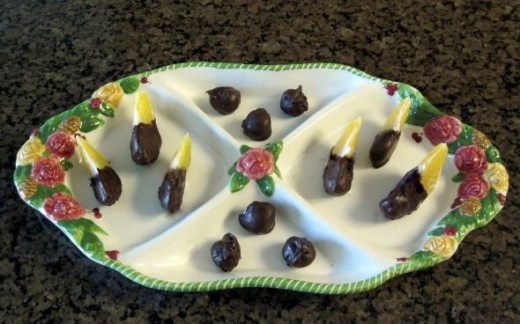 This recipe article was originally published by me in 2010 on a different site that no longer exists.
All Photos are mine and should not be used without written permission.
Share these Instructions with Your Friends!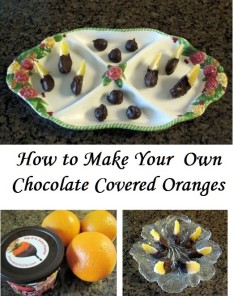 Originally posted 2016-02-09 14:51:11.
---