Chocolate Covered Pineapple is Fun to Make and Delicious to Eat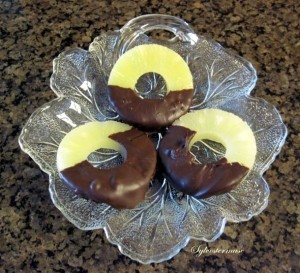 Pineapple is one of those fruits that is delicious in anything, with anything or just by itself. My entire family loves pineapple so, of course, I could not resist dipping it in melted chocolate and serving it as a snack.
Chocolate Covered or Dipped Pineapple would also be great as an appetizer or as a dessert. It is so pretty that it would be lovely on a wedding reception table, wedding or baby shower table, or served at an afternoon tea.
It is also very easy and quick to make.
Supplies and Ingredients Needed to Make Chocolate Covered Pineapple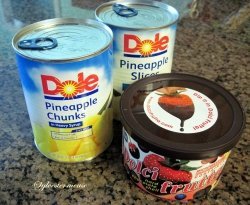 Pineapple ~ Sliced or Chunks ~ Canned or Fresh ~ I used canned fruit in the photos because it is fast and easy.
Chocolate for Melting ~ I prefer Saco Dolci Frutta featured below
Wax Paper
Dolci Frutta Hard Chocolate Shell, 8 Ounce (Pack of 2)Check Price
&
Pineapple Chunks make an especially easy to serve appetizer or snack!

Easy Directions for Chocolate Covered Pineapple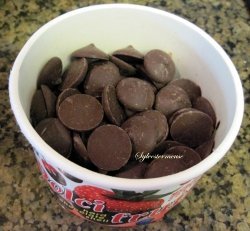 Step 1: Cover a cookie sheet with wax paper ~ The cookie sheet will make it easier to move your Chocolate Covered Fruit.
Step 2: Melt Your Chocolate ~ If you use Saco Dolci Frutta, you can melt the chocolate in the microwave in their package container. Melt the chocolate in the microwave for 2 minutes on medium and stir the chocolate until it is completely melted. Other chocolates will need to be melted in a double boiler or a microwavable dish.
Step 3: If you are using canned fruit, completely drain juice and gently dry pineapple. If you are using fresh pineapple, core and slice it into pieces.
Step 4: Dip the Pineapple in the chocolate
Step 5: Set on wax paper to cool
Step 6: When you have dipped all of your fruit pieces in chocolate, serve or eat.
Best if not refrigerated
Step by Step Photos ~ Chocolate Covered Pineapple Chunks
This slideshow requires JavaScript.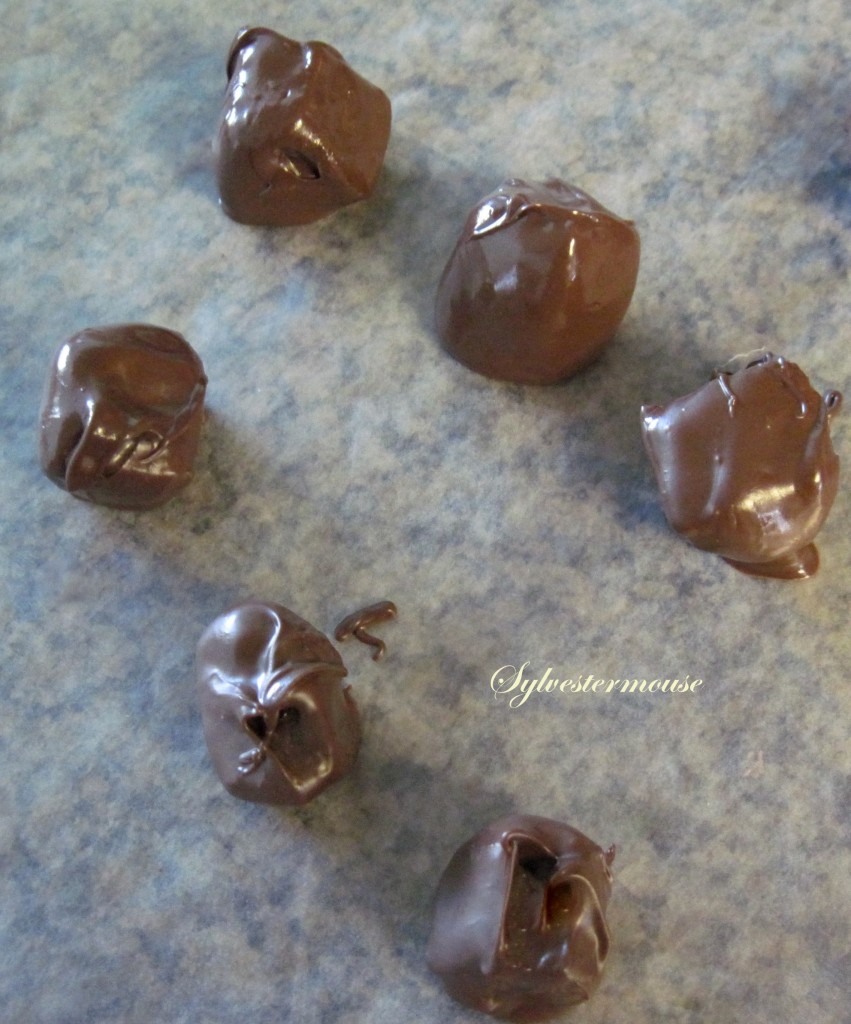 Step by Step Chocolate Covered Sliced Pineapple
This slideshow requires JavaScript.
---
A Few More Things
Coring and slicing a fresh pineapple can be a bit tricky. You might want to treat yourself to a corer. The featured corer below has a ratcheting grip to help your wrist.
Also, be sure and select a pretty serving tray or dish for your chocolate covered fruit. It will definitely make a lovely presentation at any party.
OXO Good Grips Stainless Steel Ratcheting Pineapple Slicer with Depth GuideCheck Price
&
This article was originally published by me in 2010 on a site that is no longer in existence. Since the establishment of Cooking for the Holidays, I am moving all of my favorite recipes to this permanent site.
Originally posted 2016-04-13 13:56:48.
---